10 Highest Scoring Whiskies From the Spring 2022 Buying Guide
March 30, 2022 –––––– Whisky Advocate, , , ,
The
Spring 2022
issue of
Whisky Advocate
focuses on the great versatility and rich history of rye whiskey. Inside, we go deep on rye's roots in Pennsylvania, exploring the height of
"Old" Monongahela
popularized by bartender-favorite Old Overholt. And if you are accustomed to deploying rye in your
Manhattan
, we have a crop of new cocktails worth mixing as well as a bevy of bottles made to sip on, with 47 rye recommendations ranging from $23 to $185.Inside the
Buying Guide
, we review 98 whiskies, including a fair share of rye. Sample the ever-growing segment of finished whiskies with Ammunition Pinot Noir Finished (
90 points
) and Templeton Oloroso Sherry Finished (
88 points
), or stick with trusted value names like Knob Creek (
92 points
) and George Dickel (
90 points
). We also review WhistlePig Boss Hog VIII: Lapulapu's Pacific scoring
91 points
and include it among our choice of
collectibles
. In fact, we went in-depth on the collectibility of the entire WhistlePig Boss Hog collection in a recent edition of our
auction column What's It Worth?
.Beyond rye, there are several excellent whiskies reviewed, with these ten all scoring between 93 and 95 points. There are age statements ranging from 14 to 51 years, finishes in cognac and mizunara barrels, and peated whiskies from Scotland and Japan.
TOP SCORES FROM WHISKY ADVOCATE'S Spring 2022 ISSUE
Royal Salute The Time Series 51 year old95 points, 45.4%, $30,000
Ruby grapefruit, wisps of smoke, dried cranberry, and oak, with the smoke building amid salted caramel, grilled peach, rose petal, and fragrant spices. With a heart of Longmorn, the blend combines Glen Keith, Strathisla, Caperdonich, Dumbarton, Schenley-era Strathclyde, and more. Complex and velvety smooth, it glides through honeyed nuts, Victoria plum, vanilla, and citrus for a dalliance with ginger, star anise, cinnamon, and nutmeg, finally softening to melted chocolate. Heavenly. (101 bottles; 20 for the U.S.)
—Jonny McCormick
Teeling 30 year old Vintage Reserve Collection95 points, 46%, $2,200
If bees could make single malt, they would make this. Deeply honeyed, with caramel, vanilla essence, mango, papaya, and waxy-green leaf aromas on the nose. This nectar is indulgent, with a silky mouthfeel, while the taste buds are immersed in molten pools of honey, rich dried fruits, sugary sweet candies, melon, poached pear, vanilla, toffee, and oak spices, with a sticky sweet finish of dried fruit that's buzzing with peppery spice. (120 bottles for the U.S.)
—Jonny McCormick
Octomore 130.8 PPM 12.1 Edition94 points, 59.9%, $200
Aged 5 years in American oak barrels, this one starts with a rush of peat bonfire, cayenne pepper, and paprika, along with saline minerality, dried seaweed, and aging brine. The palate is rich and spiced, but also smooth and deep, with smokiness and peat lingering in the background. Powerful, and definitely helped by a few drops of water. Superb length on a finish of vanilla, with loads of spice and red fruit.
—David Fleming
Lucky Seven 14 year old The Proprietor Single Barrel (No. 72)94 points, 67.07%, $140
The nose brings forth a symphony of red fruit: cherry cobbler, cranberries, dried strawberries, and candied orange. Underneath the fruit, caramel syrup, macaroon, marshmallow, and medium-roast coffee emerge. The palate is a revelation, with hot peppery spice balanced by cinnamon swirl French toast, rich hot chocolate, dark-chocolate raspberry squares, and macchiato. Bottled at cask strength, this is a hot one, and it definitely benefits from water, which coaxes out sumptuous chocolate fudge and bold dark espresso beans.
—Julia Higgins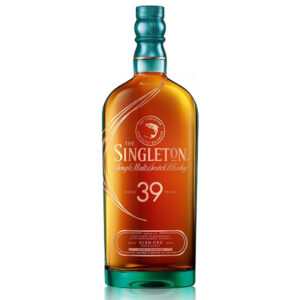 The Singleton 39 year old94 points, 46.2%, $2,650
Layered, complex, and pleasurable, with a deep vinous character on the nose of rose hip, dried cranberry, peppercorn, and autumn leaves, from the influence of the Chateau Lacoste Borie finishing casks. Delving deeper, it pulls out aromas of black cherry, new leather, snuffed candlewicks, and Christmas pudding, then vine fruit, almond, and baked orange. Muscovado-sprinkled apple and pear, with citrus, chocolate-dipped cherry, and bramble on the palate. Perfect drinking strength: No water, please. (1,695 bottles)
—Jonny McCormick
Bardstown Bourbon Company Ferrand Finished93 points, 55%, $125
Finished in barrels from cognac maker Ferrand, to great effect. A hint of barrel char on the nose, along with burnt brown sugar, baked peaches, taffy, grenadine, toasted almonds, nougat, cooked pears, crème de cassis, and banana flan. The palate is smooth and thick, with pastry shop flavors, manuka honey, and rhubarb pie. The finish is oak laden, but rich with cooked fruit, charred oak, iced coffee, and dark chocolate.
—David Fleming
Miyagikyo Peated93 points, 48%, $275
Watch out, because Miyagikyo has moves you've never seen before. Smoke builds as you nose, from sweet smoke, caramel, and vanilla to bonfire smoke with savory and spicy elements, tarry ropes, and semi-sweet chocolate chips. A multi-faceted tasting experience with sweet vanilla, chocolate, malt, spice, and cocoa, then cherry, raisin, and baked citrus, with a huge chewy mouthfeel and unrelenting flavor delivery through to the finish. Send more peat to Sendai! (2,820 bottles for the U.S.)
—Jonny McCormick
Egan's 18 year old Legacy Reserve Collection IV93 points, 46%, $200
Blushing pinker than a Provençal rosé thanks to the Moscatel de Valencia casks, the aromas are outstanding: neroli, ruby grapefruit, persimmon, watermelon, and ground black pepper. Picture a Parisian boutique of fragrances and fine candles and you're there. To taste, orange, grapefruit, and light toffee, then a long spicy stretch, becoming more polished, developing stone fruit characters, and ending with a grapefruit finish that still shows plenty of bite. (486 bottles for the U.S.)
—Jonny McCormick
Widow Jane 15 year old The Vaults Blend of Straight Bourbon (Batch 3)93 points, 49.5%, $225
Cloves, baking spices, and fragrant dried herbs on the nose—very herbal overall, hints of cedar chest, touches of mature oak, and dark chocolate. The palate is chewy and creamy, with caffé latte and spiced chocolate laced with coconut shavings. There's a milkshake-like quality to its thickness and depth, with deeper notes of baked red berries, blackberries, and cinnamon-chocolate babka. A chocolate-filled finish with custard, cinnamon, and berry tart. A loaded, generous dram. (3,000 bottles)
—David Fleming
Writers' Tears Japanese Cask Finish93 points, 55%, $125
The nose is rich and oily with Bramley apple peels, brown butter, walnut oil, and exotic woods. Hugely satisfying mouthfeel of toffee, nut, malt, and baked sugar as pepper and clove take flight, leaving baked apple, walnut, currant, and ripening plum. This achieves perfect center ground between the sweetness, spice, and mizunara wood, and the spice combination from the 9-month finish and single pot still is divine. (1,200 bottles for the U.S.)
—Jonny McCormick