14 Barrel-Proof Whiskeys That Deliver Bold Flavor
June 15, 2021 –––––– Zak Kostro, , , ,
For big, bold flavor, one needs to
look no further than barrel-proof whisky
—especially American whiskey. Some of distillers' best bourbon and rye come straight out of the barrel, and they pack a punch, given that in hot, dry climates, proof rises over time thanks to barrels losing water at a faster rate than alcohol.At higher proofs, flavors are concentrated, and bottling at barrel proof more or less showcases the whiskey's recipe and the distiller's intent. The following bourbons (and one rye) range in proof from 53.89% ABV to a whopping 68.35% ABV, and they all scored 90 points or more with our tasting panel.
The best barrel-proof bourbons to try right now
Barrell Cask-Strength bourbon (Batch 23)
92 points, 53.89%, $90
Caramel, baked marshmallow, dark cherry, and candied peanuts
Maker's Mark Cask Strength Kentucky straight bourbon (Batch 19-01)
92 points, 54.4%, $40
Chocolate, almonds, shortbread, and tobacco
Belle Meade Cask Strength Reserve(Batch No. 5)
92 points, 56.8%, $70
Cinnamon Red Hots, grape soda, chocolate-covered caramels, and roasted corn
W.L. Weller Full Proof Kentucky straight bourbon93 points, 57%, $50
Blackberry compote, tiramisu, and milk chocolate *while this is not barrel-proof, it is a high-proof bourbon
Four Gate Split Stave by Kelvin Cask-Finished bourbon91 points, 57.8%, $175
Oak-forward, with dark cherry, black tea, and licorice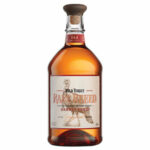 Wild Turkey Rare Breed Kentucky straight bourbon
90 points, 58.4%, $45
Hints of caramel apples, pumpkin pie, and roasted pecans
Old Ezra 7 year old Barrel-Strength Kentucky straight bourbon94 points, 58.5%, $50
Cinnamon, roasted pecan, melted caramel, and macaroons
Knob Creek Cask-Strength rye94 points, 59.8%, $70
Tropical fruits, citrus oil, peach nectar, cinnamon, and peppery spice
Angel's Envy Cask-Strength Port Barrel-Finished bourbon (2019 Release)93 points, 61.2%, $200
Nutty grain set off by dark fruit and pecan pie
Larceny Barrel-Proof Kentucky straight bourbon (Batch A120)93 points, 61.6%, $50
Spiced chocolate, toasted almonds, cinnamon, pepper, and well-integrated oak
1792 Full ProofKentucky straight bourbon
92 points, 62.5%, $45
Nougat and chewy toffee mixed with ripe orchard fruit *while not barrel-proof, this is a high-proof bourbon
Booker's 2019-04 "Beaten Biscuits" Kentucky straight bourbon92 points, 63.05%, $80
Orange Creamsicle, pepper, dried oranges, and cigar wrapper
Stagg Jr. Barrel Proof Kentucky straight bourbon (13th Edition)94 points, 64.2%, $50
Blueberry and blackberry balanced with burnt sugar and pipe tobacco
Elijah Craig Barrel Proof Kentucky straight bourbon (Batch A120)94 points, 68.3%, $60
Generous oak, dense sweetness, and bold spices, including allspice, pepper, and clove