Speyside single malt distillery
Benriach
has unveiled a new look for its core range of whiskies—including new names, one rejiggered recipe, and a brand new expression. The lineup now includes Benriach The Original Ten and Smoky Ten, replacing Benriach 10 year old and 10 year old Curiositas, though the liquids are staying the same; The Original Twelve, which takes the place of the former 12 year old with a new flavor profile; and The Smoky Twelve, an entirely new release. Each of the whiskies features a unique maturation program using three different cask types. (The brand has also dropped the medial capital R in its name, much to the relief of copy editors everywhere.)
Founded in 1897, Benriach Distillery operated for just two years before being closed due to a crash in the scotch industry. It was revived in the 1960s but closed again in 2001. A couple of years later, it reopened once more under an enterprise led by scotch whisky veteran Billy Walker and has been steadily producing ever since. Benriach is one of just a few Speyside distilleries that makes both peated and unpeated single malt, offering whisky lovers a chance to taste the effect peat has on the spirit. Master blender Rachel Barrie—who took the reins after Walker's company sold Benriach and its sibling distillers,
GlenDronach
and
Glenglassaugh
, to
Brown-Forman
in 2016—explained the challenges and excitement of working with both styles of whisky under one roof in
this 2018 interview
.
Under Walker's tenure, Benriach produced a veritable cornucopia of expressions, often with Latinate names for the peated whiskies like
Septendecim
and
Importantaticus
. The range has become more streamlined in the past few years, and with the addition of these 12 year old expressions, Benriach fans will more easily be able to stairstep up from the 10 year olds to Benriach's older expressions, which at one time included 16, 17, and 20 year old variants.
The rebranded range also includes Benriach The Twenty One, a combination of peated and unpeated whiskies matured in virgin, sherry, red wine, and virgin oak casks; The Twenty Five, which is also somewhat peated and matured in bourbon, sherry, madeira, and virgin oak casks; and The Thirty, aged in bourbon, sherry, port, and virgin oak casks. Those expressions are rolling out overseas now and will arrive in the U.S. in 2021. In addition, Benriach is planning special releases called Smoke Season and Malting Season, although those will only be available overseas.
Keep reading for details on the four new whiskies hitting U.S. shelves next month.
Benriach's New Whiskies, Coming October 2020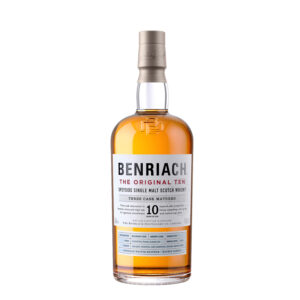 Benriach The Original Ten
Style: Unpeated single malt
Origin: Scotland (Speyside)
Age: 10 years old
ABV: 43%
Price: $54
Availability: Widely available
Maturation: Bourbon, sherry, and virgin oak casks
Benriach The Smoky Ten
Style: Peated single malt
Origin: Scotland (Speyside)
Age: 10 years old
ABV: 46%
Price: $60
Availability: Widely available
Maturation: Bourbon, Jamaican rum, and toasted virgin oak casks
Benriach The Original Twelve
Style: Unpeated single malt
Origin: Scotland (Speyside)
Age: 12 years old
ABV: 46%
Price: $60
Availability: Widely available
Maturation: Bourbon, sherry, and port casks
Benriach The Smoky Twelve
Style: Peated single malt
Origin: Scotland (Speyside)
Age: 12 years old
ABV: 46%
Price: $65
Availability: Widely available
Maturation: Bourbon, sherry, and marsala casks