Some people would suggest that potato chips, tortilla chips, and wedges of pita bread are perfectly fine on their own. Then again, there are also those who believe that the Earth is flat and good whisky is not a necessity. For the rest of us, chips and pita wedges form only one half of the equation.
Dips are the savory equivalent of the frosting on a cake. They provide that extra jolt of flavor that turns a simple snacking occasion into a genuine gastronomic experience. But like the chocolate-versus-vanilla frosting debate, where dips are concerned, opinions run high.
According to Lauren Hollow, consumer insights senior manager for the food-service research firm
Technomic
, the most popular dip-centric appetizers in restaurants stick close to the familiar. "Tradition definitely still drives the dips market," says Hollow. "The top three most popular categories are what they've been for a long time: cheese, salsa, and guacamole."
Beyond tradition, she suggests, we tend to seek indulgence in our dips selection, something particularly apparent in the behavior of consumers over 35 years old. In restaurants, this translates into multiple cheeses built into complex creations, often in combination with seafood—popular among older consumers—or peppery spice—big with younger ones. Anecdotally, Hollow adds, this behavior tends to mimic what we buy in the grocery store.
To find the best whisky pairings, I turned to the four most popular categories of dips as identified by Hollow: cheese, salsa, guacamole, and spinach-and-artichoke, as well as the number one up-and-comer, hummus. Each partnered both easily and quite deliciously with a different type of whisky.
Salsa, which dethroned ketchup as the most popular condiment in the United States in 2013, enjoys commonality of flavors with bourbon, which makes the American whiskey its best partner. The fruitiness of the spirit eases the acidity of the tomato without sacrificing any peppery spice, while still having the weight to measure up against the salsa's big flavors. An added ice cube can mellow out any particularly searing heat if your salsa skews seriously spicy.
Remaining in a Mexican state of mind, guacamole is defined by a rich, creamy texture and a soft sweetness of flavor. Conveniently, such traits may also be attributed to Irish whiskey in general and particularly pot still whiskeys. Avocado may be the last green thing you would find growing on the Emerald Isle, but the gentle sweetness of both fruit and spirit make them ideal companions.
Cheese is the most popular dip category in restaurants, where elaborate blends of cheeses and seasonings reign, but supermarket versions veer more toward the cheese and chile pepper combinations widely grouped under the Spanish sobriquet queso. Given scotch whisky's well-documented propensity toward
pairing with cheese
, it's no surprise that it shines here, with a lightly smoky blend faring best alongside a basic queso dip, again adding an ice cube and perhaps a splash of soda if spice abounds.
Spinach-and-artichoke dip requires two things from a complementary spirit: either sufficient body to stand up to the dip's creaminess, or enough spice to cut it, and a dryness that will withstand the chlorogenic acid and cynarine in artichokes, which can exaggerate the sweetness of anything consumed alongside. Enter spicy straight rye whiskey, which fits the bill on both counts and has the added bonus of refreshing the palate between mouthfuls of dip.
Finally, for the Mediterranean staple hummus, a full-bodied Canadian whisky provides perfect balance, with just the right mix of richness and refreshment.
Get the Scoop on Dips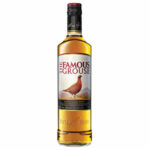 Famous Grouse and soda and Tostitos Medium Salsa Con Queso
No need to break out a single malt scotch when a nice blend and a bit of soda will match the cheese and spice perfectly well.
Buffalo Trace and Pace Medium Chunky Salsa
The fruitiness of the bourbon tames the acidity of the salsa while the salsa's spice brings forward the richness of the bourbon. It's a match that works both ways.
Lot No. 40
and Sabra Roasted Garlic Hummus
This Canadian whisky has all the body needed, while the hummus benefits from its palate-cleansing ability.