The Overlook at Rabbit Hole Offers Some of Louisville's Best Cocktails—And Views
September 21, 2020 –––––– Susannah Skiver Barton, , , ,
This story was originally published in December 2019; offerings and opening times may be different due to COVID-related restrictions, so check in advance of a visit.
While building the distillery on East Jefferson Street in Louisville, Rabbit Hole's construction team would go up in a boom to see what the view from this third-floor cocktail haven would be when complete. It's excellent, with floor-to-ceiling windows overlooking the Butchertown neighborhood and the Big Four Bridge, providing an ideal balance for the soaring heights of the glass-enclosed still room down the hall.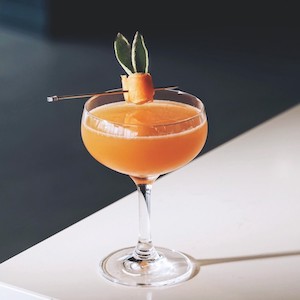 The All Rabbits Go to Heaven cocktail
Despite the breathtaking views, Overlook's inventive drinks, all made with the distillery's bourbons, rye, and gin, are what leave the strongest impression. The bar's program was designed by Proprietors LLC, the company behind New York City cocktail den Death & Co., and features perfectly executed classics like the Suffering Bastard and Whiskey Sour, along with original creations and the occasional special offering. The best examples showcase surprising ingredients that complement the distillery's malt-heavy whiskeys; don't miss the This Is America (Rabbit Hole Cavehill bourbon, Laird's 7 year old apple brandy, house-made sweet corn orgeat, and lemon juice, garnished with popcorn shoots) and the Niles Crane (Rabbit Hole Dareringer sherry cask-finished bourbon, salted caramel cordial, amontillado sherry, and black walnut bitters).
Original artworks in a variety of media—from oil and lacquer to fiberglass and textiles, by the likes of Letitia Quesenberry, Gary Simmons, and Jeremy Dean—impart a feeling of elegant modernity that's heightened by sleek mid-century mod furnishings. And that view doesn't quit: step onto the outdoor terrace to catch a cool breeze as you sip, and wonder how the rabbit got from its hole to this unforgettable aerie.
Must-Drink Cocktail
: All Rabbits Go to Heaven, featuring Boxergrail rye, St. George pear brandy, carrot juice, yellow Chartreuse, and lemon
Don't Miss
: [M][O][V[][E][M][E][N][T]by Keltie Ferris, a Warhol-esque work made with the human body, commissioned by Rabbit Hole founder Kaveh Zamanian