Essential Whisky Cocktail: Rob Roy
March 5, 2019 –––––– Brittany Risher, , , ,
A Manhattan made with scotch instead of rye, the Rob Roy is—aptly—named after a Scotsman. From 1894 to 1895, a musical version of Walter Scott's novel Rob Roy ran at the Herald Square Theatre in New York City. This operetta by lyricist Harry Smith and composer Reginald De Koven told the story of 18th-century Scottish freedom fighter Rob Roy McGregor. As was common practice back then, someone decided to christen a cocktail after the popular show. "The name was not only timely, but provided a Scottish theme for a scotch whisky cocktail," says Eric Felten, the James Beard Award-winning author of
How's Your Drink? Cocktails, Culture, and the Art of Drinking Well.
The beauty of the drink is its simplicity. "Since it requires no rare ingredients, it can be easily made at home and will reward basic care and craftsmanship," Felten says. The version published in 1930s-era
Savoy Cocktail Book
called for 1 dash of Angostura bitters and equal parts Italian (sweet) vermouth and scotch whisky.
Choose Your Whisky
Blended scotch whisky is the traditional choice for a Rob Roy. "Classically, it was the whisky that was readily available and still charms the back bars of most haunts around the world," explains Tre Stillwagon, head bartender at New York City's
Analogue
. Nevertheless, he prefers a peated single malt such as Caol Ila. "The vermouth barely sings over the smoke, and it's just enough to pleasantly pop up on the back palate," he says.But, he adds, you can try any scotch—Lowland, sherry-finished Speyside, Islay. "I wouldn't say that you should stay away from any whiskies in this cocktail, but I would recommend playing around with brands and expressions," he says. "You may hate a Rob Roy with Balvenie 12 year old but adore one with Balvenie 14 due to the tropical sweet tones coming from the rum finish. It's all about experimentation." Note that if swapping in different varieties of scotch, you may also want to experiment with the
vermouth
.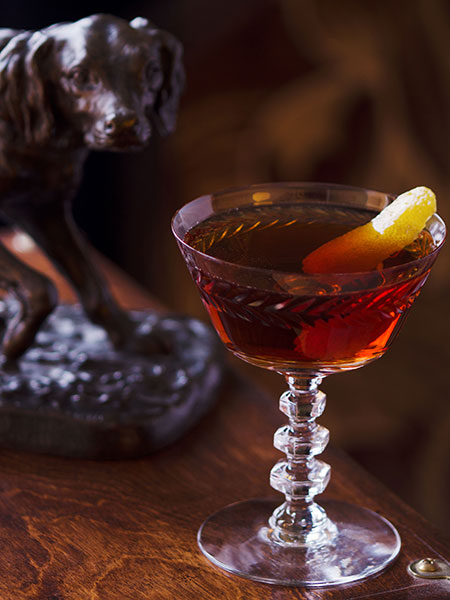 A variation on the Manhattan, the Rob Roy is made with blended scotch instead of bourbon or rye.
Rob Roy Recipe
1 ½ oz. blended scotch (or any scotch whisky)
¾ oz. sweet vermouth
2 dashes Angostura bitters
Garnish: Lemon twist or cherry
Combine scotch, vermouth, and bitters in a mixing glass. Add ice and stir well until chilled. Strain into a chilled coupe glass and garnish with lemon twist or cherry.
Top Tips
Stir well
"Drinks with vermouth—or any other wine aperitif—are best mixed by stirring," Felten says. "The trick is to stir the drink long enough for the cocktail to get colder than the ice in it; two minutes will do. If you don't want to stir that long, use crushed ice in the mixing glass, which will freeze the drink down faster, though it also means the drink will be somewhat more diluted."
Chill your glass
A Rob Roy is best served very cold, so put the coupe in the freezer for about 30 minutes before you make your cocktail.
Garnish with real cherries
Adding a cheap, dye-laden cherry ruins a carefully crafted cocktail. Use the real thing, such as Luxardo or Bourbon Barrel, or
make your own
.
Make It Your Own
• Substitute dry vermouth rather than sweet and garnish with an olive.• Use a 50-50 ratio of sweet and dry vermouths for a Perfect Rob Roy.• Try orange bitters rather than Angostura,• Swap the typical light blended scotch for a heavily peated variant or a single malt.