Meet the Fresh Faces Shaking Up Scotch Whisky
February 1, 2021 –––––– Jonny McCormick, , , ,
The best-known single malt scotch distillers are quick to point to their long history, perseverance, and established reputations for greatness. But for the first time in nearly a hundred years, they are finding themselves in the company of a throng of newcomers.
Distillery construction in Scotland hasn't been this active since the beginning of the 20th century. While new distillers follow the rules and enjoy the cachet associated with the world's most premium spirit, they are also innovative by nature. These new scotch distillers are finding their niche among the ranks of the old guard. For whisky lovers, that means a greater selection of single malts to choose from and fresh directions, including creative approaches to distilling and finishing.

Green Light
The basis for the surge in new distilleries is more than just entrepreneurs chasing a piece of the whisky boom. There are deeper reasons concerning the environment, the subtle ways in which whisky making is changing, regulations that now permit smaller stills, and the general gravitation toward food and drink born of personalities and places. "There has been a big shift away from the industrial production of food and drink by large corporations to more manageable businesses that have a clear provenance, a face behind the name, and a reason for being," says Annabel Thomas, founder of Nc'nean Distillery. "A lot of it is about trust: That's what's driven the change in beer and gin, and I believe that's what's driving the change in whisky as well." This next-generation distiller hasn't broken ranks with the tradition of daunting Gaelic names, however. Neachneohain means "queen of spirits" in Gaelic but, true to form, pronunciation is not as hard as it looks once you know how it's done: Nc-NEE-an.
Thomas converted vacant buildings on her parents' farm in the west of Scotland, fulfilling a family dream to create a distillery. As the project took shape, she toured Islay distilleries but was disheartened to hear the same message repeatedly: Whisky was being made the same way as it always had been. "I could see what was happening with whisky in the rest of the world, and felt it wasn't happening enough in Scotland," she says. "One of the challenges is that scotch is so tightly regulated by the SWA [Scotch Whisky Association]. I think that limits creativity, and that's a bad thing for moving the industry on. It's not like the regulations on scotch at the moment mean that every bottle of scotch is great: It just means that every bottle of scotch is quite similar to another one."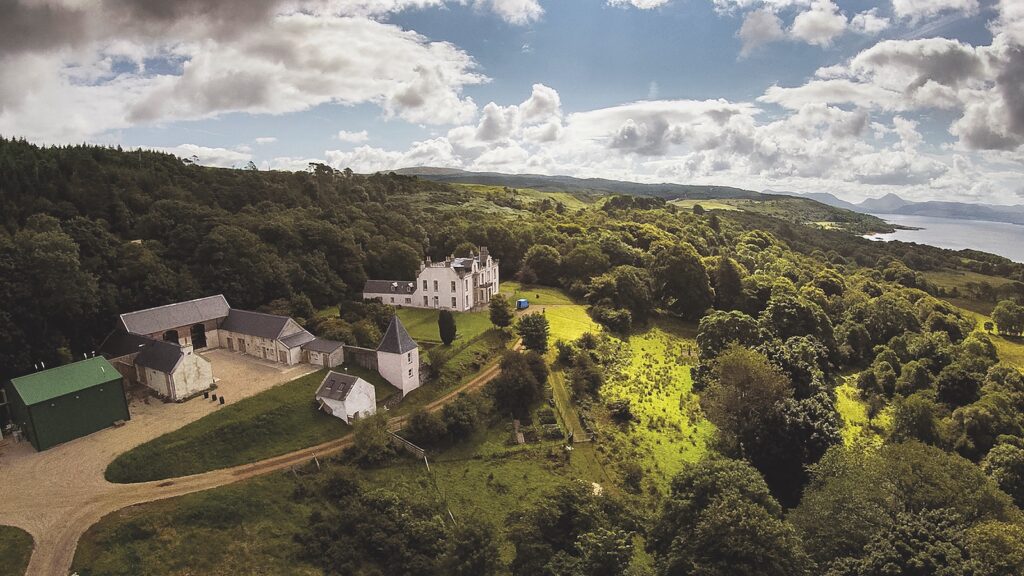 Nc'nean Distillery inhabits vacant farm buildings in Morvern, in Scotland's west.
Thomas points out that distillers in England and elsewhere have more freedom to innovate, and she sees that creative competition as a massive risk to the future of scotch. It's not any particular regulation that she finds restrictive, more the general approach. "Existing large corporate interests dominate the SWA, which is the fundamental problem. Its presence reduces creativity," she says. "Basically, you're not allowed to do anything that isn't already being done. You're taking on corporates with massive marketing budgets that small new distilleries don't have in general, but the good thing is it forces a more creative approach that can create more interesting results for the whisky drinker."
Nc'nean began distilling 100% organic spirit in 2017, with sustainability front and center. "Sustainability is important to it, because it's important to me," Thomas emphasizes. "The distillery is located in a very wild and natural place, so we need to tread lightly." Surrounded by dense forest, Nc'nean invested in a biomass boiler that burns wood chips from local timber to provide energy for distillation. Thomas pays a substantial premium to source organic barley from 10 certified farms scattered up and down Scotland's east coast. Organic farming reduces barley's significant carbon footprint and encourages biodiversity. "You either think that's important or you don't, but being 100% organic felt very important to me," she says. Despite reports of challenges from distilleries that have undertaken organic production, Thomas finds the local barley handles well and delivers respectable yields—close to 400 liters of pure alcohol (lpa) per ton. At Nc'nean even the waste products aren't discarded. The spent grain, or draff, goes to cows for feed, the pot ale and other effluent is suitable as fertilizer, and the ash from the biomass boiler is spread on the vegetable garden.
Nc'nean's distilling team includes seasoned scotch whisky veterans, like distillery manager Gordon Wood (back row), as well as folks with more diverse backgrounds. The distillery offered an internship specifically recruiting women who want to work in the scotch industry.
Nc'nean aims to make 100,000 lpa annually, about 1/150 of Macallan Distillery's capacity, from two main recipes. One is designed as a great young whisky with a shorter maturation due to its blend of yeasts and high cut points during distillation that exclude feinty characteristics. The other is more classic, using a narrower slice of the distillate, designed to take longer to reach peak maturation and develop more flavor complexity.
The distillery has experimented with yeast strains used for rum, red wine, chardonnay, champagne, tequila, and cachaça. "It's absolutely amazing," beams Thomas. "The rum yeast produces pineapple flavors in the spirit, and the red wine yeast produces lots of lovely red fruits. We just haven't answered how much of the flavors will carry through into the mature product yet."
When Nc'nean advertised for a distillery manager, only men applied for the position. "I think that has ramifications—when consumers go 'round distilleries and only see men working there, that sends subliminal messages in terms of who drinks the product," Thomas notes. "If you talk to Heriot-Watt [Scottish university with brewing and distilling courses] graduates, there is still bias against women on the program going into whisky." Thomas was recently inundated by 180 applications when she offered one-week internships to encourage more women to take up production jobs in whisky, and her message is clear: "If this is what you want to do, you should do it."
Nc'nean debuted its flagship organic single malt in September 2020, although the whisky isn't currently for sale in the U.S. "It's totally magical watching how much a spirit changes if you add a drop more from this cask or that cask," says Thomas. "A lot of what we're about is trying to make whisky more accessible and less stuffy: Having bottles for $1,000 has the opposite effect."
Like many Japanese distilleries, the Isle of Raasay team produces multiple styles of whisky to allow freedom to blend a unique flavor profile.
Island Life
Isle of Raasay is a traditional Scottish island distillery channeling Japanese whisky-making sensibilities. Following some successful adventures in blending with the Tweeddale Blend in 2009, co-founder Alasdair Day found his ideal location for a distillery on Raasay, an island off an island (Skye) in the Hebrides without a history of legitimate distilling.
"We had the luxury of having a blank sheet of paper," explains Day. "In Scotland, each distillery has its own style, but we haven't got a distillery that's been here for 200 years." The very notion of a single distillery style is rooted in the business of blended scotch, when single malt distillers aimed to supply a consistent product to their primary buyers, the big blending houses. So Day drew inspiration from another single malt nation. "What if we made different styles in one place and blended them together like the Japanese?" he thought.
Another of Day's ambitions—to grow barley on the island—was met by a local farmer with a mixture of incredulity and pragmatism. "He almost fell off his seat laughing," admits Day. "'It'll grow,' he told me, 'but it won't ripen.'" Day became a convert to the importance of barley varieties after tasting the whiskies from the Bere barley trials for Bruichladdich and Arran, as well as Highland Park's Tartan barley project, conducted with the help of Dr. Peter Martin from the University of the Highlands & Islands.
The allure of a 100% Raasay whisky was irresistible to Day, and Nordic countries with similar high rainfall and short ripening seasons to the island helped to encourage him. Barley explorations led to the current crop of Brage, a Norwegian six-row, and Iskria, an Icelandic two-row. (The farmer was proved right: Popular barley strains Concerto and Golden Promise grew, but failed to ripen.)
Like the best Japanese distillers, Raasay makes both unpeated and heavily peated whiskies, which can also be blended together in the future for a lightly peated style. Longer-than-usual fermentations are responsible for dark fruit flavors of cherry and blackcurrant. Yeasts typically used for grain whiskies and champagne are utilized to develop other key flavors.
Isle of Raasay head distiller Iain Robertson samples some of the distillery's maturing whisky.
It takes a distiller's eye to spot some of Raasay's more technical advances. Cooling jackets are able to hold fermentation at a set temperature to produce flavorsome secondary compounds from the yeast. The yin and yang of the lyne arms show a gentle decline from the wash still, but an incline from the spirit still that promotes reflux. There's another cooling jacket on the wash still lyne arm, which if deployed ensures heavier compounds are returned to the pot still. "It actually builds up more character in our heavily peated spirit," Day explains. A six-plate purifier allows them to switch between a traditional spirit still and a Carter-Head still (typically used to produce gin). For the whisky lover, the takeaway is boundless permutations from a single distillery.
"Twenty-five years ago, people were amazed at single malt scotch and thought about how to make it in their own countries and make it better," says Day. "Now we should be looking at what they've done, and bring that back to scotch."
Day feels the SWA regulations offer him an advantage over non-Scottish producers. "We are absolutely working within the SWA regulations and we're not going to try and step outside them because of how it protects scotch. It does make scotch special and I think there are lots of approaches we can take as a new, small, independent distillery."
Raasay's core whisky is matured in rye barrels, red wine casks, and high-char, high-toast virgin chinkapin oak casks. The latter, Quercus muehlenbergeii, is an oak species that delivers more dark fruit characteristics than the vanilla typically produced from the ubiquitous Quercus alba. Raasay's warehouses also feature bordeaux wine casks from Château Calon-Ségur, Château Margaux, and Château Palmer, along with bourbon and manzanilla sherry casks in order to take full advantage of the color, depth, and complexity of flavors created by the cask and its former contents.
Isle of Raasay opened in 2017, but if Day could give advice to his younger self, it would be to build the distillery 10 years ago. The inaugural release and the Raasay individual cask offer are available on the distillery's website, with the core single malt slated for spring 2021.
Kingsbarns distillery manager Peter Holroyd takes a hands-on approach to distillation, checking the spirit run.
Fruit Machine
In an area rich with Scotland's finest links courses, Kingsbarns Distillery sits six miles from St Andrews, the "home of golf." It was the brainchild of local caddy Doug Clement, who noted that his golfers frequently wanted to visit a distillery but were flummoxed that none existed within a 50-mile radius. Independent bottler Wemyss Malts joined the venture in 2012, bringing blending and bottling expertise as well as the requisite funds, and the distillery is now one of the front-runners in the revitalized Lowlands region, known for its floral and elegant whiskies.
"You don't just start a distillery by plumbing things together, pressing a button, and waiting to see what comes out the other side," says Peter Holroyd, Kingsbarns distillery manager. "Every aspect has been meticulously planned, from the raw materials [and] the production process to the engineering of the plant." This starts with locally grown barley and clear wort from the mash tun to enable the development of fruity esters courtesy of two yeast strains, with Fermentis Lesaffre yeast boosting the production of fruity top notes and complexity.
Due to its location in a historic 18th-century building, Kingsbarns was not permitted to construct anything higher than the tallest point of the original structure, ruling out the possibility of extremely tall stills. Its workaround was to install relatively horizontal lyne arms to increase the copper contact en route to the condenser. "We take our time with distillation and run our stills slowly," shares Holroyd, noting that rather than automation, distillation adjustments are made by hand. "We've got a very high spirit cut point, as we're really just targeting the top of what is coming off the still."
Kingsbarns is shooting for 200,000 lpa, which equates to filling around 34 barrels a week. "We put our new make predominantly into first-fill bourbon casks from Heaven Hill Distillery, which consistently give us vanilla and lovely tropical fruit," says Holroyd. "We also fill Portuguese red wine STR [shave, toast, re-char] casks, which gives quite complex flavors of plum wine and herbal notes."
The distillery's first generally available release, Kingsbarns Dream to Dram, comprises 90% first-fill bourbon and 10% STR casks. "The nose is like a candy store, with tropical fruit, pineapple, a bit of icing sugar," says Holroyd. "The STR casks deliver richness on the palate, a little bit of sourness mid-palate, and a hint of ginger on the finish."
Regardless of their inventiveness, distilleries like Kingsbarns share the traits of pride and authenticity inherent to veteran scotch distillers. "If you're a relatively small producer like us, it pays to make a premium product," says Holroyd. He is even getting out of the distillery occasionally to proudly pour the whisky at tastings. Despite its youth, it's impressing even skeptical scotch lovers. After all, he's offering a taste of single malt scotch unlike anything they've experienced before.