10 Highest-Scoring Whiskies in the Summer 2021 Buying Guide
June 7, 2021 –––––– Whisky Advocate, , , ,
The
Summer 2021
issue of
Whisky Advocate
features over 100 whisky reviews, covering scotch, bourbon, Irish, Japanese, and many other styles. Below, check out 10 of the bottles (excluding
Editors' Choice
and
Collectibles
) that scored highest, netting 93 points and above.These top-scoring bottles represent a wide array of spectacular whiskies, some of which bear advanced age statements, others that boast big proof. Our
2017 Whisky of the Year Elijah Craig Barrel Proof
makes an appearance with the first batch of 2021, as do other trusted names like Booker's, Barrell, and Bardstown. Rounding out the list is a single barrel offering from
Nashville Barrel Company
. We are always delighted when a new brand impresses our tasting panel.There are plenty of other high-scoring whiskies in the Summer 2021 Buying Guide, and lots to discover.
Check out the full slate of new reviews!
TOP SCORES FROM WHISKY ADVOCATE'S Summer 2021 ISSUE
Midleton Very Rare Silent Distillery Chapter 2 197397 points, 53.6%, $45,000
Give this an hour to unfurl; the nose reveals aged oak, pot still spice, and engine-oiled machine parts, then milk chocolate, sesame seeds, vintage maps, and calfskin vellum, before chocolate orange and lighter, more pliable wood notes, and eventually shortbread and buttercream. The flavors are so vibrant: a brilliant chocolate-orange creaminess, penetrating pot still spice, gingersnap, barley sugar, and a treacle-like spicy finish that lasts an eternity. (70 bottles)
—
Jonny McCormick
Benriach The Thirty95 points, 46%, $740
Benriach digs into the vaults for this rare gem, and it's a tour de force. The maturity shows at once, with an antique note of well-aged peat char and dark sherried aromas of dried figs and raisins. The palate offers flavors of cooked berries and baked apple, along with candle wax, dark chocolate, and roasted espresso beans. It all finishes with rich chocolate, old spice rack, and a parting note of ashy peat. A complete whisky. —David Fleming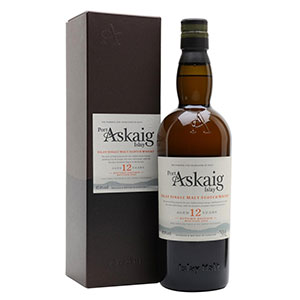 Port Askaig 12 year old Sherry and Bourbon Cask (Autumn 2020 Edition)94 points, 45.8%, $120
Loaded with briny peat and barbecued bacon up front, before fresh undernotes of peach, lemon spritz, and ginger begin to emerge. On the palate, bonfire embers are followed by orchard fruits, raspberry jam, and grapefruit, with subdued flavors of vanilla, lacings of chile pepper, and smoldering peat. Water brings out more—lemon cream pie, chocolate, galia melon, and cooked pears. True to the Islay character in its assertiveness, yet also delicate and subtle. (720 bottles)
—
David Fleming
GlenDronach 18 year old94 points, 46%, $180
Sherry lovers, alight here: This stop is full of Fig Newtons, dates, raisins, brown sugar, candied citrus, dark chocolate, and a delightful dried mango aroma. Generous flavors of berry jam, raisins, figs, and dates mingle with white pepper, dried ginger, candied orange peel, nuts, and dark chocolate tinged with leather and tobacco, along with a mouthwatering salinity. The finish has a phantom chewiness: There's nothing left in the mouth, but it's still textured and rich, with smoked nuts, cigar wrapper, and raisins. —Susannah Skiver Barton
Bardstown Discovery Series #4 Bourbon94 points, 57.5%, $130
Powerful aromas of blackberry cobbler, brown sugar, honey, baking spices, cola, peanuts in the shell, and hay loft give way to a muscular palate that, despite its big oak character, never becomes bitter. Zingy lemon oil, dark berries, cola syrup, espresso, dark chocolate, and roasted peanuts fill out a chewy mouthfeel. The finish has excellent length with rich flavors of chocolate, coffee, roasted nuts, and spices. —Susannah Skiver Barton
Elijah Craig Barrel Proof Kentucky Straight (Batch A121)94 points, 61.8%, $60
A generous nose, with chocolate-covered cherries, candied orange peel, menthol, cola, pine nuts, caramel, corn bread, and varnish. Piles of baking spice and dark chocolate shavings on the palate mingle with raspberry jam, orange peel, gingersnaps, cinnamon, and mint; water amplifies and brightens the fruit character. A lip-smacking finish of dark chocolate, mint, tobacco, and polished oak. —Susannah Skiver Barton
Widow Jane 15 year old The Vaults Blend of Straight Bourbons (2020 Release, Batch 1)94 points, 49.5%, $199
Mature aromas of leather, shoe polish, blueberry pie, and iced tea mingle with brown sugar, walnuts, gingerbread, and—after some time in the glass—rose perfume. The palate is chewy like a well-made chocolate bar, rich with roasted and candied nuts, blackberry cobbler, dark chocolate, dried ginger, and white pepper; water and time bring out rose water. The complexity of the palate carries through to the finish, full of coffee bean, Coca-Cola, gingerbread, bittersweet oak, and a touch of mint oil. (5,000 bottles) —Susannah Skiver Barton
Barrell Cask Strength Blend of Straight Bourbons (Batch 027)93 points, 57.85%, $90
Pleasant aromas of confectionery store on the nose—candy apples, milk chocolate, grape jelly, and candied coconut—as well as some fresh red fruit notes. Agreeably smooth on the palate, with balanced sweet flavors of chocolate-covered raspberries, candied almonds, cinnamon spice, and coffee. A rich finish offers mint, dark chocolate, drizzled caramel, espresso beans, and cinnamon. A crescendo of fresh red fruit completes a pleasant tasting journey through this well-structured whiskey.
—
David Fleming
Booker's 2020-03 "Pigskin Batch" Kentucky Straight93 points, 63.65%, $90
Roasted herbs, peanuts, and fragrant oak start things off on the nose, followed by notes of dried cherries, cornbread, vanilla frosting, and blueberry pie. A chewy palate offers honeyed almonds, cherry pie, and allspice. Water unlocks dark chocolate, more cherry pie, cinnamon spice, and tobacco leaf. A long spiced finish shows lively herbs, cinnamon sugar, and strawberry jam. Water is highly recommended—it takes this already superb whiskey to even greater heights.
—
David Fleming
Nashville Barrel Company 7 year old Single Barrel Straight93 points, 57.5%, $100
Demonstrating clear maturity and complexity, this is sweet right off the bat, with cocoa-dusted truffles, dark chocolate-covered cherries, crème brûlée, and gingersnap cookie on the nose. The palate is chewy, with more dessert notes like tiramisu, mocha, and candied apple in addition to tobacco leaf and, with water, dried ginger, allspice, and raisins. The finish displays savory spices, cocoa powder, espresso, peppermint stick, and blueberry jam, with excellent length. —Ted Simmons