6 Amazing Age-Statement Bourbons to Try Now [LIST]
May 5, 2021 –––––– Sam Stone, , , ,
When you think of double-digit age statements, your mind may jump straight to scotch. While scotch whiskies are often 12 years or older, more and more well-aged bourbons—and Tennessee whiskey,
which is the same thing
—have popped up on shelves in recent years. When it comes to age statements and the aging process, bourbon is quite different from scotch, thanks to its use of new charred oak barrels and the climate differences between Scotland and Kentucky, where the majority of bourbon is made. Some aged bourbons may have delicate, balanced notes of oak while others taste far too woody—it takes a skilled whiskey maker to walk that line. Since the process is so fickle, it's made even
Whisky Advocate
question:
Can bourbon be too old?
The six age-statement bourbons here, which are all from our
Spring 2021 Buying Guide
, are prime examples of well-aged bourbon. Each boasts a double-digit age statement and scored at least 90 points, showing exemplary distillation and maturation. Whether you're looking for a bourbon with a specific age statement to commemorate a birthday or anniversary or want to dip your toes in the world of well-aged bourbon, you can't go wrong with one of these bottles.
6 HIGH-SCORING AGE-STATEMENT BOURBONS TO SEEK OUT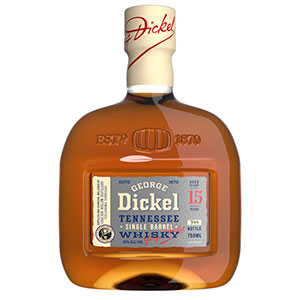 George Dickel 15 year old Single Barrel Tennessee Whiskey (No. L2029-5k-1010)95 points, 52.3% ABV, $60
This has Dickel's distinctive oily grain aromas: It's packed with corn and peanuts, and also sweet with brown-sugar oatmeal and maple candy. Add a little water and voila! Orange peel and Luxardo cherry appear, creating an instant Old Fashioned. The palate is chewy and full-bodied, pepped up with cinnamon and dried ginger, and lengthened by grape jelly, Coca-Cola, Corn Nuts, and dried cherries. A full and lengthy finish sings with ginger, peanuts, and chocolaty oak. —Susannah Skiver Barton
Heaven Hill 13 year old 85th Anniversary Single Barrel Kentucky Straight Bourbon92 points, 53.5% ABV, $300
Raspberry tart, marzipan, honeyed cornbread, cinnamon, new leather, cedar, and herbs on the nose. A creamy mouthfeel, with notes of chocolate fudge, tobacco leaf, leather, spice, and mature oak. Water brings out generous flavors of chocolate nuttiness, licorice, cinnamon, spearmint, and mature but balanced oak. Spiced and lively, particularly considering its age. (146 bottles) —David Fleming
Blue Run 13 year old Kentucky Straight Bourbon (Fall 2020 Release)91 points, 56.5% ABV, $170
The nose displays a great mix of spice and nuttiness, with toasted almonds, cocktail peanuts, and Honey Bunches of Oats. A splash of water opens it up with dark fruit—cooked cherries and blackberry jam—emerging. The palate is chewy and full, with dark chocolate, Golden Grahams, and coffee bean, a touch of cigar wrapper, and licorice lying underneath. The finish turns savory, still full-bodied, and rich with oak, coffee, and black pepper. (2,600 bottles) —Ted Simmons
Calumet Farm 14 year old Single Rack Black Kentucky Straight Bourbon91 points, 48.1% ABV, $120
Sweet and nutty on the nose: brown sugar, wet walnuts, Cherry Coke, pralines, and roasted peanuts. Water releases vanilla-blueberry muffins, orange peel, and cherry Pixy Stix. These notes continue onto the oily palate with blueberry and raspberry jams, cooked plums, maple syrup, and a touch of leather. The lengthy finish offers more of the same, plus black pepper and polished oak. Water brings better balance and sweeter notes of tiramisu and Christmas cake. —Ted Simmons
Widow Jane 10 year old Decadence (Batch 2)91 points, 45.5% ABV, $80
A blend of straight bourbons finished in maple syrup barrels. The nose is rich with brown sugar, honey, orange peel, and rose oil; elegant and polished. The palate suggests hot chocolate, raspberry jam, and bitter cherries, a syrupy sweetness shining through. The finish shows good length and continued sweetness with brown sugar glaze, cocoa powder, and coffee cake. A dessert lover's dream, the finishing cask sweetness is the star here. —Ted Simmons
Russell's Reserve 2003 16 year old Kentucky Straight Bourbon90 points, 44.75%, $250
Cooked cherries, cherry cough drops, raspberry, vanilla, dried banana chips, and old attic on the nose. The palate's texture is smooth, with undertones of spice and rich overtones of chocolate, blackberry jam, toasted almonds,
zabaione
, cinnamon, and pepper, against mature but balanced oak. A spiced finish offers blackberry, vanilla, cinnamon, and tobacco. Richly herbal, with deep fruit and chocolate, and balanced maturity.
(Collectible)
—David Fleming