6 Cask Strength Whiskies to Try Now
July 25, 2022 –––––– Ted Simmons, , , ,
Your natural impulse come summertime may be to grab a low-proof whisky and you wouldn't be alone. The typically low ABV of
blended scotch in particular
makes for great summertime sipping, approachable on its own, or in a cold, refreshing cocktail like the
Penicillin
. If you are imbibing in the summer sun, it is always wise to pace yourself, and low ABV whiskies will help you do just that.But there is something appealing about a cask strength pour in the summer months as well—letting the heat in your glass match the heat outside. High-proof whiskies can handle a nice large ice cube, as the whisky slowly dilutes and flavors begin to change. If you are the type to grab something high proof no matter the season, these cask strength whiskies all scored between 88 and 92 points in our
Summer 2022 Buying Guide
. Some underwent inventive cask finishes, while others are age stated single barrels. They all pack a serious punch though, ranging from 55.4% to 65.41% ABV.
Embrace the Summer Heat With These High Proof Whiskies
MacNair's Lum Reek 10 year old Cask Strength (Batch 1)92 points, 55.4%, $100
No half measures from the Islay whisky components on this one. Toffee, brownies, vanilla essence, and chocolate-dipped orange slices infused with aromas of heathery peat smoke and antiseptic bandages, plus plum, pencil shavings, and cinnamon. Dark chocolate, baked orange, and damsons followed by a peak of clove, pepper, and gentle smoke, backed by ginger loaf, sticky toffee pudding, and licorice. Could be the best hundred bucks you'll ever spend. (600 bottles for the U.S.)—Jonny McCormick
Lucky Seven 6 year old The Proprietor Single Barrel91 points, 60.4%, $85
Nutty and spiced on the nose, with salted peanuts, apple cider, tart pears, and lemon juice. Water brings out caramel-covered pralines, peanut-butter crackers, and Apple Jacks. The palate is fiery, with more cider notes and baking spice. Water makes it more palatable but less dynamic; flavors turning to wax and wood. A big flash of spice highlights the finish along with lemon zest. Brace for heat or add water sparingly.—Ted Simmons
Uncle Nearest Master Blend Edition91 points, 59.2%, $150
Made from a special selection of barrels chosen by master blender Victoria Eady Butler. The nose is fruity and sweet with candy apples, raspberry danish, and iced lemon pound cake. Water brings out dried leaves and chocolate brownies. There's more sweetness on the palate in the form of raspberry lemonade as well as a subtle tartness. Those qualities carry over to the finish. Well-made, with tasty concentrated flavors throughout.—Ted Simmons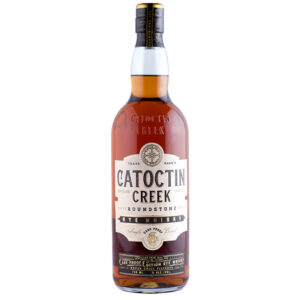 Catoctin Creek Roundstone Cask Strength Hickory Syrup Barrel Finished90 points, 60%, $90
The nose up front conveys a certain austerity, like dusty antique furniture, with notes of grape Kool-Aid, honey cake, and vanilla icing emerging over time. With water, Golden Grahams and citronella candles emerge. The palate is honeyed and hot, with honey-roasted peanuts overtop a chewy and viscous texture. The finish shows great length and viscosity; a lip-smacking finale. There's a lot of wood and heat here, but a warming honeyed sweetness as well. (240 bottles)—Ted Simmons
Hard Truth Sweet Mash Barrel Strength89 points, 57.6%, $70
An ode to dessert, this is a deluge of decadent flavors: pie crust, apple pie, baked apples, cinnamon sugar, and banana bread waft up from the glass, all joined by the faintest hint of pickle juice. Such indulgence carries on to the palate, where there's French toast dusted with powdered sugar, balanced by a nice kick of cinnamon spice. The finish, led by pickles and pumpernickel, sizzles at first, but subsides sweetly into softer flavors. (66,000 bottles)—Julia Higgins
Barrell 16 year old Grey Label Seagrass88 points, 65.41%, $250
Several countries play a role in this whisky, which is distilled in Canada, finished in a mix of Martinique rum, madeira, and apricot brandy casks, and bottled in Kentucky after aging in both Canada and the U.S. It's pale in color, with a mild fruity aroma. It's spicy and a bit hot on the palate, with an herbaceous bitterness and a rooty character that is overly earthy, with a persistent tangy citrus note.—David Savona