6 Wonderful Wine Cask-Finished Whiskies to Try Now [LIST]
April 5, 2021 –––––– Ted Simmons, , , ,
Whisky and wine share a lot in common, and in the case of
Whisky Advocate
and Wine Spectator, that includes an office. There's a good deal of crossover between the two worlds: Both publications engage in rigorous
blind tasting
when writing reviews, and the editors on each side have a deep appreciation for drinks made from both grape and grain.
In whisky making, there's overlap as well. Some wine producers, like Napa Valley's Dave Phinney, have entered the world of spirits, lending a new perspective to the ever-growing field of wine finishes. Phinney's
Savage & Cooke Second Glance American whiskey
, finished in his own wine barrels, scored 91 points in 2018, an impressive showing for the upstart brand.
Wine cask-finishing has, of course, been around for decades, initiated by scotch producers
employing sherry barrels
to impart sweet, nutty flavors to their single malt. But the trend continues to grow, with American producers jumping on board. The new Thomas S. Moore line of bourbons, made at
Barton 1792 Distillery
, relies on chardonnay, port, and cabernet sauvignon casks to differentiate itself and the results are delicious (see below).
The
Spring 2021 Buying Guide
includes reviews of those three whiskeys, as well as Irish whiskey finished in oloroso sherry casks, American single malt finished in pinot noir casks, bourbon finished in rosé casks, and much more. If you are a fan of both drinks, you'll want to check out these whiskies which bridge the gap—and scored well in the process.
Mix Whisky and Wine With These Bottles
Glen Scotia 10 year old Bordeaux Wine Cask-Finished Campbeltown Malts Festival Single Malt Scotch (2020 Release)
94 points, 56.1%, $80
A deft use of bordeaux casks beautifully showcases Glen Scotia's inherent density and amplitude. Raspberry ripple ice cream with butterscotch sauce, strawberry jam, tiramisu, toffee, and cigar wrapper on the nose. The full, thick palate is sweet with raspberry and strawberry jam, black currants, candied ginger, and orange peel, tempered by dark chocolate, pecan pie, gingerbread spices, and a touch of tobacco. It remains mouth-filling on the finish, with jammy berries, orange oil, spices, salinity, and integrated oak. —Susannah Skiver Barton
Thomas S. Moore Chardonnay Cask-Finished Bourbon
93 points, 48.95%, $70
Much to unpack on this well-structured bourbon, starting with the complex nose of gingerbread spices, dark chocolate, leather book bindings, roasted pecans, blackberry and raspberry preserves, and decadent brown sugar. The palate is tightly wound and needs patience to fully reveal its manifold flavors that range from dried cherries and roasted peanuts to lemon and orange peel, integrated baking spice, and marshmallow. It's tied off neatly with chocolate-covered peanuts, citrus peel, and sweet oak. —Susannah Skiver Barton
Bonus: Check out
Thomas S. Moore Port Cask-Finished
(93 points) and
Sauvignon Cask-Finished
(92 points), also reviewed in the Spring 2021 Buying Guide.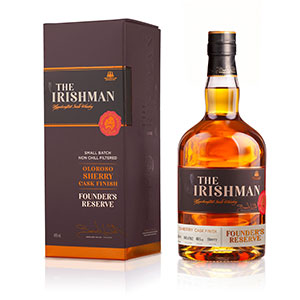 The Irishman Founder's Reserve Oloroso Sherry Cask-Finished Irish Whiskey
91 points, 46%, $100
The third in the Reserve Cask series, this has wafts of sherry wood, Victoria plum, dark marmalade, toasted almond, polished wood, ground nutmeg, and dried pear. Warm fruits, panettone, and citrus peel precede a moment of nippy spice on the palate, followed by red berries and caramel. This saves the best till last with a delicious final phase, as milk chocolate and spice soften to end with Choco-Leibniz and dried fruit. (8,000 bottles) —Jonny McCormick
Kilchoman Fino Sherry-Matured Single Malt Scotch (2020 Edition)
90 points, 46%, $130
Fragrant fruit notes—dried red berries, raspberry pastilles—ride atop a light peat influence on the nose. The peat becomes stronger on the palate to create a profile of bonfire ash, grilled meat, dried leaves, blackberry jam, dark chocolate, and black pepper. Water brings out light fruitiness, as well as brine and charcoal. The finish is mid-length and smoky, with classic notes of Band-Aid, iodine, wet seaweed, and charcoal. (1,140 bottles for U.S.) —David Fleming
Westward Pinot Noir Cask-Finished American Single Malt
89 points, 45%, $90
The nose balances enticing aromas of tropical fruit—mango, jackfruit, papaya—with earthy clay and dark chocolate, a harbinger of the bright sweetness of the palate, which sings with grapefruit, lemon-lime zest, kiwi, and pineapple soda, plus roasted nuts and semi-dark chocolate. The texture is waxy, verging to oily with a few drops of water, but never heavy. Though the finish is short, it's complete, rounded out with white pepper, jackfruit, and grapefruit oil. —Susannah Skiver Barton
Penelope Rosé Cask-Finished Bourbon (Batch 01)
86 points, 47%, $65
An unusual cask finish for bourbon; the rosé imparts floral and fruity notes on the nose with dried orange peel, fragrant oak, cotton candy, bubble gum, and Jolly Rancher. The palate is surprisingly zippy with citrus, cinnamon, and oak but loses full harmony among its disparate flavors. On the finish, there's more cinnamon, along with chicory and oak. The overall journey is a bit uneven. (2,400 bottles) —Ted Simmons