Craft Distillers Struggle to Survive Amid COVID-19
May 5, 2020 –––––– Zak Kostro, , , ,
COVID-19 has battered the entire whisky industry but perhaps no one is struggling quite like the thousands of craft distillers in the U.S. The pandemic has
shuttered tasting rooms
and disrupted distribution, cutting off crucial revenue streams, prompting staff cuts, and potentially putting some on the brink of permanent closure. While most large companies
forecast little impact
from the current crisis—even as they suspend operations or
shift production capacity
to making hand sanitizer—some smaller distillers foresee whiskey supply shortages down the road, or worse.An April survey of over 150 distilleries by the
American Craft Spirits Association
(ACSA) reveals that sales are down for almost 85% of respondents, as a majority have closed tasting rooms, laid off or furloughed employees, and are depleting remaining inventory as they allocate most of their production to hand sanitizer.
Another survey
, by the
Distilled Spirits Council of the United States
and American Distilling Institute, shows that, across 118 distillery respondents, 43% of staff have been furloughed or laid off. Yet the pandemic doesn't have to spell doom, ACSA CEO Margie Lehrman says. "Solid, common-sense solutions"—like restaurants selling to-go cocktails, and more states allowing direct-to-consumer shipping—could allow drinkers to continue enjoying craft whiskey during lockdown. "For many of the craft distilleries that are actually able to benefit from one of these methods, I'm optimistic that they will come out on the other side of this with a strong ability to continue to produce," she adds. "There are others, however, that don't have the capacity at this point to do anything more than produce hand sanitizer and not even think about the next step."Without robust governmental assistance, federal excise tax relief, and other measures, Chris Montana—president of ACSA, and owner and head distiller at Minneapolis, Minnesota-based
Du Nord Craft Spirits
—foresees a potentially bleak future for his distillery and thousands like it. "Our spirits production has ground to a complete stop," Montana tells
Whisky Advocate
. "We don't have a cocktail room anymore, which was a significant source of income. We had to lay off around 60% of staff. We've switched over to hand sanitizer production, and that's taken up all of our bandwidth. We're going to work off of the inventory that we have, but when that runs out, we'll have to make some tough decisions." Du Nord hasn't reached that point yet, but Montana believes it could come in just a couple of months. "I'm hoping that we're looking at a different environment when we get there," he adds.
Chris Montana—owner and head distiller atDu Nord Craft Spirits inMinneapolis, Minnesota—hasbeen sourcing ethanol for hand sanitizer production during the pandemic, which he says has allowed him to rehire staff he'd previously laid off. But in the meantime, spirits production has ground to a halt. (Photo courtesy of Du Nord Craft Spirits)
Yet as difficult as it's been for Du Nord, it could've been worse. Because the distillery was able to pivot to making hand sanitizer—which Montana says allowed him to rehire staff at increased pay to make up for at least part of what they lost—"we should be able to survive this pandemic and get back to regular spirits production, probably with a little bit of a hiccup." He'd like to resume production this fall for Du Nord's Mixed Blood blended whiskey—made from the distillery's 2 to 4 year old high-rye bourbon, and sourced whiskey—but the need for immediate cashflow may put that on hold. "There's a chance that our whiskey will have to take a hiatus while we catch up with some other products that need less time in the barrel," Montana adds. In addition to whiskey, Du Nord makes vodka, gin, and apple and coffee liqueurs, at a capacity of 60 gallons a day altogether.In the meantime, Du Nord's sales are down "across the board," Montana says, noting that in order to ensure social distancing, he's temporarily stopped selling bottles at the distillery. Additionally, local bars are closed. "Our biggest customer [bars] got pulled out of the market, and our ability to sell on-site is now inherently dangerous," he adds. The pandemic has also put the brakes on new projects. "The frustrating thing for me is that it slows down my ability to produce other whiskeys that I was excited about," including
rye
and
American single malt
, as well as rum, Montana explains. "We were at the point where we were adding on some capacity," with plans to ramp up to a 1,500-gallon-a-day system split between two new stills. "But we had to put all that on pause. Newer products that we were going to release, now those are probably going to be punted another year or two."
Scrabbling for Sales
While producing hand sanitizer proved a lifeline for Du Nord, for some craft distilleries it just isn't feasible. The majority of hand sanitizer is made with commercial ethanol, which distilleries are blending with other ingredients and repackaging; most small producers don't have the ability to take in the typically large amounts in which this ethanol is sold. "As the demand for ethanol went through the roof, the availability of it in smaller formats has dried up," Montana says. "That was no problem for anyone big enough to handle full tanker trucks, but [smaller distilleries] got squeezed out, or have to pay very high prices for the raw ingredients to be able to make sanitizer on any kind of a significant scale. For those folks who were smaller to begin with and had less fat in their budget, I think they're getting hit a lot harder [financially] than some of the larger [craft] distilleries."Becky Harris—co-founder and chief distiller at
Catoctin Creek
in Purcellville, Virginia—agrees. "The smaller your operation, the less resources you have to weather this kind of uncertainty, the more immediate impact it has on what you're doing," she says, pointing out that retail sales locations have a major impact. "Most of the craft players are really, really small—probably making less than a thousand cases [12,000 bottles] a year—and most of that is sold out of their tasting rooms." Catoctin Creek—which last year sold around 5,000 cases (60,000 bottles), according to Harris—has enough outside sales to offset losses from shutting down its tasting room. "Our biggest customer right now is the
Virginia ABC
[Alcoholic Beverage Control Authority], and their stores are open, so we knew that there was still going to be movement of our product," Harris says.
Catoctin Creek brand ambassadors Steve Merlo and Lauren Barrett bottle hand sanitizer on March 31. The Virginia distillery provided more than 2,000 gallons to the public, first responders, and frontline workers, but stopped when it became impossible to obtain raw materials like bulk ethanol at reasonable prices. (Photo courtesy of Catoctin Creek Distilling Co.)
The distillery initially shifted some production to hand sanitizer, ultimately providing more than 2,000 gallons to the public, first responders, and frontline workers, but stopped when it became impossible to obtain raw materials like bulk ethanol and denaturing agents (which must be added to hand sanitizer to ensure it's non-potable) at reasonable prices. "Making sanitizer enabled us to keep a bunch of our part-time tasting room staff" employed, Harris says. "But we had to do everything by hand, and it was very expensive. We really couldn't afford to make it competitive."A windfall came, however, when the Virginia ABC announced on April 6 that it would allow certain distilleries to ship directly to in-state customers. "That was a lifeline to our operations," Harris says. "Once we wound down the sanitizer project, a number of people working on it transitioned into packing and shipping cases." Thus far, it's been "a real lifesaver" for Catoctin Creek and neighboring craft distilleries. "I talked to a number of other distilleries in Virginia, some of whom do less than 500 cases a year out of their tasting room," Harris says. "Their sales had actually improved by 50% over the previous year."In a
statement
, Virginia ABC chief executive Travis Hill noted the importance of giving the state's distilleries leeway in how they're able to sell while their tasting rooms remain closed. But Harris believes that flexibility shouldn't end with the pandemic. "It's going to take a while for people to feel comfortable going out and about," she says. "If we can continue to ship, I think it would be a good thing—not only for us, but also for the rest of the state." Notably, Kentucky also recently passed legislation to
allow direct-to-consumer shipping
for wine, beer, and spirits, including to people in other states with reciprocal agreements.There's no possibility of shipping whiskey directly from New Mexico's
Santa Fe Spirits
, and owner Colin Keegan says the situation is getting dire. "We've got no income from whiskey while this is going on," he says, though the distillery has been making hand sanitizer. Santa Fe Spirits sold around 24,000 bottles of whiskey in 2019, Keegan says, but estimates a roughly 30% drop because of the pandemic. For a distillery like his that's already "running hand-to-mouth," such a loss could be devastating. "We rely on a $20,000 check every two weeks from our New Mexico distributor, and in the last eight weeks, we've had one for $5,000," Keegan notes. "People are buying alcohol, but they're going to their Jack Daniel's and their Smirnoff while they're at the grocery store rather than stopping and looking for a craft whiskey." Compounding that loss of income, stores—and consumers—are "going to forget about you," Keegan adds, making recovery even more difficult. "When we get out of it, we'd love to go back to the way things were, but it's going to be a lot harder."
Need for Action
Even for distilleries that are managing to stay afloat, the future remains anything but clear. "For everyone who's making whiskey, you lay down today what you think you're going to sell in four years," Montana says. "The real question is not what happens in a year, but what happens two or three years from now, when the [current] slowdown in production leads to a slowdown in revenue. It's going to be four or five years from the end of this pandemic before the whiskey industry gets back to normal."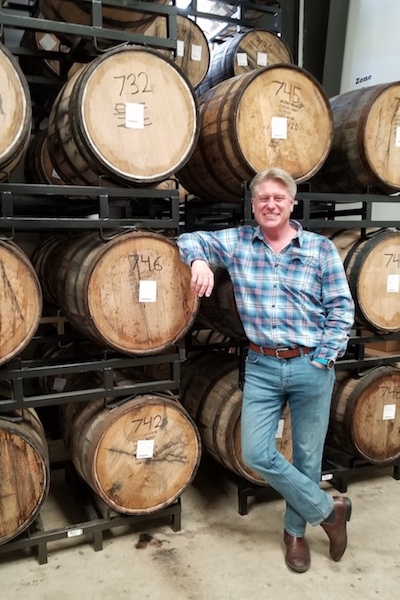 Colin Keegan, owner of New Mexico's Santa Fe Spirits—pictured standing in the rickhouse in January 2020—says the coronavirus pandemic has decimated his ability to sell whiskey. (Photo courtesy of Santa Fe Spirits)
In spite of this, he remains optimistic about the industry's ability to rebound. "If there ever was a group of people who can figure their way through this, it would be craft distillers," Montana says. There are a number of measures—both immediate actions and long-term changes—that could give craft distillers a boost. In an April 22
letter
, Lehrman—along with Distilled Spirits Council president and CEO Chris Swonger and
Kentucky Distillers' Association
president Eric Gregory—urged Congress to provide help to distillers through federal excise tax (FET) relief, an industry stabilization fund,
suspension of tariffs on distilled spirits
, and continued funding of no- and low-interest loans. Currently, distillers benefit from a temporary cut to federal excise tax that's been in effect since 2018, which—perhaps now more than ever—is critical to allowing producers to dedicate sparse resources to payroll and other operating costs, the spirits group leaders say. But if it were made permanent—by enacting the Craft Beverage Modernization and Tax Reform Act—it would provide "certainty to distillers as they plan for the rest of 2020 and beyond," and ease their "fear that a return to normal operations will be closely followed by a scheduled tax increase at the end of the year, creating further financial turmoil," they wrote.In fact, nearly three-quarters of respondents in the ACSA's survey said they'd like to see FET waived in 2020, while 85% called for permanent FET reduction, starting immediately. Under the temporary reduced rates—set to expire Dec. 31—distillers
pay $2.70 per proof gallon up to 100,000 gallons, compared to the previous rate of $13.50
. "This really helps our craft spirits segment," Lehrman says. "If I could see any one change, right now, that would give craft distillers some breathing room, it would be to make permanent the FET reduction. Can you imagine suddenly waking up on Jan. 1 [in 2021] and having your own taxes go up 400%?"Yet even if such measures are undertaken, there will likely be casualties among craft whiskey distillers, with inevitable implications for future supply. "There are going to be distilleries that simply cannot survive this because they already were close to the edge," Montana says. "This will be the thing that knocks them over. I hope that we avoid that. If we can, then craft whiskey consumers have plenty to look forward to. But if we don't have policies in place to allow those distilleries to recover, then we're not just going to lose the whiskey—we're going to lose the distilleries, and that is what I think we all should be working very hard to prevent."