Baker's 7 Year Old Single Barrel (and 13 Year Old), Larceny Barrel Proof & More New Whisky
October 11, 2019 –––––– Susannah Skiver Barton, , , ,
While Buffalo Trace Distillery announced the
2019 release of the Old Rip Van Winkle whiskeys
yesterday, the real new product upset of the week was Glenlivet's cocktail pods—an innovation that isn't even coming to retail shelves, but nevertheless caused quite a stir. My take?
Do not fear the scotch pods
.Beyond the unobtainable, there are plenty of new whiskies to look for now. Jim Beam has revealed an overhaul of its
Baker's
brand. The bourbon will remain at least 7 years old and 107 proof, but is now bottled as a single barrel for $70. In addition, there's a limited-edition 13 year old Baker's available in small amounts for $100.Beam's Kentucky neighbor, Heaven Hill, has debuted
Larceny Barrel Proof
. The cask-strength version of the distillery's wheated bourbon is priced at $50 and will be released in three batches a year.
Balvenie Distillery
is rolling out Batch 6 of Tun 1509. The limited-edition single malt costs $400.
Wyoming Whiskey
is bringing back Outryder at 7 years old. The combination of high-rye bourbon and a whiskey made with 48% rye is priced at $75, with just over 3,400 bottles available.
Templeton
is releasing a rye finished in maple syrup casks. Priced at $40, there are 24,000 bottles of Templeton Maple Cask-Finished for sale.Also under the maple influence: Graverobber Unholy Rye from New Hampshire's
Tamworth Distilling
. The whiskey is flavored with maple syrup tapped from a tree growing in a cemetery. There are limited amounts, selling for $69 for 200 ml.Finally, Washington, D.C.'s
Republic Restoratives
has unveiled the third batch of Borough bourbon. The whiskey is sourced from MGP and finished in armagnac casks, priced at $49.Read on for full details.
Baker's 7 year old Single Barrel
Style: Straight bourbonOrigin: KentuckyAge: 7 years oldProof: 53.5% ABVPrice: $70Release: October 2019Availability: Widely available
Need to know:
Jim Beam is making a change to Baker's bourbon: Previously a batched whiskey, it will be bottled as a single-barrel bourbon from now on. The proof (53.5% ABV) and minimum age (7 years) will remain the same, although some of the single barrels may be even older. The bottle's neck label indicates the barreling date, age, warehouse, and serial number of each barrel. The price is rising however— from around $50 to $70.
Baker's 13 year old Single Barrel
Style: Straight bourbonOrigin: KentuckyAge: 13 years oldProof: 53.5% ABVPrice: $100Release: October 2019Availability: Limited edition
Need to know:
The first-ever limited edition for Baker's, this is a straight bourbon aged for 13 years.
Whisky Advocate says:
Jim Beam master distiller Fred Noe came to New York on Tuesday to launch the new Baker's, and he told me that the 83 year old Baker Beam himself—former distiller at Jim Beam's Clermont distillery, and cousin of Booker Noe, who created the Baker's brand—selected and approved several single barrels in this initial rollout. Jim Beam will continue expanding on the Baker's line in the coming years, potentially through wood finishes.
Larceny Barrel Proof Straight Bourbon
Style: Straight bourbonOrigin: KentuckyAge: Not statedProof: VariesPrice: $50Release: January 2020Availability: Widely available
Need to know:
It's exactly what it sounds like: a barrel-proof version of Larceny, a wheated bourbon made by Heaven Hill Brands. Three batches will be released per year in January, May, and September, with each batch designated by a code similar to that used for Elijah Craig Barrel Proof: a letter indicating which of the three batches it is, followed by three numbers—month and year. So the first release will be A120—A for the first batch, 1 for January, 20 for 2020.
Whisky Advocate says:
While it was previously available as a barrel pick for the Kentucky Bourbon Affair and sold at Heaven Hill's Bourbon Heritage Center, Larceny Barrel Proof is finally going to be distributed everywhere. Heaven Hill says that the batches for each release will be 200 barrels or less; bottle counts will vary based on the barrels' yield.
Balvenie Tun 1509 (Batch 6)
Style: Single maltOrigin: Scotland (Speyside)Age: Not statedProof: 50.4% ABVPrice: $400Release: October 2019Availability: Limited edition
Need to know:
The sixth release in Balvenie's Tun 1509 series, which is created by malt master David Stewart, this whisky came from 21 casks: five refill sherry butts, seven refill sherry butts previously used for Balvenie DoubleWood, and nine American oak bourbon barrels. The liquids were married in the distillery's tun for three months before bottling.
Whisky Advocate says:
David Stewart has been working at Balvenie for over 50 years, and he knows the whisky better than anyone else—and it shows in these Tun 1509 releases, which allow him to play with a variety of casks and liquids. His masterful skill is on full display, indicated by scores for past batches—91 points for Batch 1 and Batch 3, and 92 points for Batch 5.
Wyoming Outryder Straight Whiskey
Style: Straight whiskeyOrigin: WyomingAge: 7 years oldProof: 50% ABVPrice: $75Release: November 2019Availability: 3,462 bottles
Need to know:
Wyoming Whiskey is bringing back Outryder, its not-quite-a-rye, at 7 years old. The whiskey is made with two mashbills: 48% rye, 40% corn, and 12% malted barley and 68% corn, 20% rye, and 12% malted barley. It's aged in new charred oak barrels.
Whisky Advocate says:
Wyoming Whiskey's original distiller, Steve Nally, was tasked with making rye early in his tenure. Apparently not a fan of the style, he stubbornly refused to do so, instead distilling a whiskey whose mash didn't quite qualify it as rye, as well as a high-rye bourbon (Wyoming's main bourbon recipe uses wheat as the secondary grain). So when the whiskey was mature several years later, Wyoming had to release it as just whiskey, not rye. It seems to have turned out okay, though, because after an initial release a few years ago, Outryder is back again, and at an older age. Look for a review in an upcoming issue of Whisky Advocate!
Templeton Maple Cask-Finished Rye
Style: RyeOrigin: IndianaAge: Not statedProof: 46% ABVPrice: $40Release: October 2019Availability: 24,000 bottles
Need to know:
Templeton filled 80 of its once-used barrels with Wood's Vermont Syrup Co. maple syrup; once emptied, the casks were filled with mature rye whiskey for a 2-month finishing period.
Whisky Advocate says:
Unlike the whiskey below, this isn't a flavored whiskey because no maple syrup was added—it was simply finished in barrels that previously held maple syrup. Because, however, it wasn't only matured in new charred oak, it's also not a straight whiskey. Whatever it technically is, we look forward to tasting it and publishing a review in an upcoming issue of Whisky Advocate. Stay tuned!
Graverobber Unholy Rye
Style: Flavored whiskeyOrigin: New HampshireAge: 3 years oldProof: 45% ABVPrice: $69 (200 ml)Release: October 2019Availability: Limited edition; available at warehousewinesandspirits.com
Need to know:
From the same distillery that brought us Eau de Musc beaver castoreum-flavored whiskey comes this seasonally appropriate "dead person" whiskey. It's Tamworth Distilling's 3 year old rye blended with maple syrup from a tree growing by a colonial-era gravesite on Great Hill Farm in New Hampshire.
Whisky Advocate says:
According to Tamworth, there's a New England superstition about maple trees in cemeteries; the fear is that if the trees are tapped for syrup, it'll disturb the dead. Sounds spooky, and totally appropriate to drink in these haunted bars.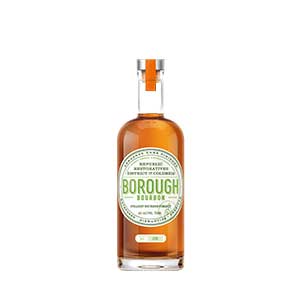 Republic Restoratives Borough Bourbon (Batch 03)
Style: BourbonOrigin: INAge: 5 years oldProof: 44% ABVPrice: $49Release: October 2019Availability: 25,000 bottles; for sale in CO, IL, MD, NY, and Washington, D.C.
Need to know:
This is the third batch of Republic Restoratives' Borough bourbon, a high-rye bourbon distilled at MGP and finished in Washington, D.C. in armagnac casks.
Whisky Advocate says:
Each batch of Borough bourbon is deliberately different; for example, Batch 2 featuring wheated bourbon finished in rum casks. Republic Restoratives sources the whiskey for Borough but is also distilling and aging at its Washington, D.C. facility.