Plan a Visit to These Terrific Whiskey Distillery Cocktail Bars
September 21, 2020 –––––– Susannah Skiver Barton, , , ,
Just about every distillery these days has a tasting room where visitors can sample a dram—an important part of the experience of learning about whiskey. A taste or two is one thing, but some distilleries are taking it further by offering full-service cocktail bars on-site.* As destinations unto themselves, these venues go beyond the Old Fashioned and Manhattan to offer inventive and original creations that showcase the whiskey made just steps away. Step up to the bar and raise your glass—it's cocktail hour.
*These venues all offered full-service schedules when the article was originally published in print in December 2019. As COVID-19 restrictions vary, it's best to check venue websites for the most up-to-date opening information.
Photos of famous whiskey distillers, like Parker Beam and George Washington, line the top shelf of the backbar at The Shanty.
The Shanty at New York Distilling Co.—Brooklyn, New York
It can be easy to miss New York Distilling Co., tucked into a residential Brooklyn block next door to a fire station. But the understated distillery boasts one of the best cocktail bars in a neighborhood known for them, turning out perfectly executed drinks while maintaining a low-key vibe. Described by beverage director Marissa Mazzotta as a "bartenders' bar," The Shanty focuses on simplicity, offering a mix of classic, updated, and original cocktails made with thoughtful ingredients. Read more about The Shanty, including which famous comedians have performed there.
An upscale vibe pervades the sleek bar at Michter's Fort Nelson, where small details make a big impact.
The Bar at Michter's Fort Nelson—Louisville, Kentucky
Every tour at Michter's Fort Nelson Distillery ends in the bar, where guests are taught how to mix (and then enjoy) a whiskey cocktail. Even without the DIY experience, the drinks by themselves are worth a visit. Michter's consulted with cocktail historian David Wondrich for the "Classics" section of the menu, which features not just the Manhattan (in both bourbon and rye variations) and Boulevardier, but the Whiskey Fix, a refreshing combination of Michter's US*1 bourbon, lemon juice, and raspberry-pomegranate syrup, and the Fort Nelson Crusta, a mix of bourbon, yellow Chartreuse, lemon juice, demerara and honey syrups, and creole bitters, served in a footed glass with a sugar-crusted rim. (You won't find an Old Fashioned on the menu, but just ask and the bartenders will mix one up with your choice of Michter's.) It's not all historical drinks either; read more about the bar's unique creations and pitch-perfect atmosphere.
While away the day at J. Rieger & Co.'s Monogram Lounge (pictured) before transitioning to the evening at the distillery's second cocktail bar, the Hey! Hey! Club.
Monogram Lounge and The Hey! Hey! Club at J. Rieger & Co.—Kansas City, Missouri
When a distillery is co-founded by a star mixologist, it's a solid bet that the cocktails served there will be world-class. And J. Rieger & Co.—the brainchild of Andy Rieger and cocktail heavyweight Ryan Maybee, who operates Kansas City's Manifesto and The Rieger—certainly delivers in the drinks department. Its new distillery in the historic Electric Park neighborhood offers not one, but two bars, each serving inventive cocktails featuring the distillery's whiskey, gin, vodka, and amaro.
Whether you're looking for a casual day drink or an upscale evening, the Monogram Lounge and Hey! Hey! Club have you covered.
Collaboration pervades the menu at Bottle & Bond Kitchen & Bar, which offers cocktails made with Bardstown Bourbon Co.'s many partner brands.
Bottle & Bond Kitchen and Bar at Bardstown Bourbon Co.—Bardstown, Kentucky
B
ardstown Bourbon Co. isn't shy about celebrating not just its own whiskeys, but also its many partner brands at Bottle & Bond. Across the cocktail menu, names like Belle Meade and Jefferson's share equal billing with Bardstown's own Fusion Series, Discovery Series, and other bourbons. Collaboration is the keyword here, with a whole section dedicated to cocktails made with Bardstown's Collaborative Series of whiskeys, like the recently featured Mack the Knife, combining Collabor&tion bourbon finished in Copper & Kings brandy casks with Averna amaro and Angostura orange bitters. (Tip: If Bardstown is offering a red wine cask-finished bourbon, ask for a New York Sour made with the whiskey and topped with a float of the wine.) The bar also has boozy milkshakes, and a massive library of antique whiskeys you won't want to miss.
Whether it's winter or summer, the High West Saloon combines après-ski vibes with a wide array of complex cocktails.
High West Saloon—Park City, Utah
Utah isn't typically at the top of the list for cutting-edge cocktails, but High West's Park City Saloon could change that. The venue leans into the restraints imposed by the state's unusual liquor laws (like capping the base spirit of a cocktail at 1½ ounces) through its bar lab mentorship program, which encourages staff to concoct original creations to make up the menu. All drinks are whiskey-based, pairing well with the saloon's menu of filling fare, much of it whiskey-laced.
Whether warming up with a Hot Whiskey Cider or cooling off with something light and long, you have plenty of options no matter the season.
The downtown cocktail bar of Santa Fe Spirits offers a warm welcome to visiting whiskey lovers, who often find themselves clinking glasses with locals.
Santa Fe Spirits Read Street Tasting Room—Santa Fe, New Mexico
In the heart of artsy Santa Fe, just a few blocks from the Palace of the Governors and the Cathedral Basilica of St. Francis of Assisi, sits the cozy tasting room and bar of Santa Fe Spirits. Once a private home, the venue offers a quiet respite for locals and a relaxing spot for tourists to taste some Southwest whiskey flavor. Adobe walls and arched, wood-beamed ceilings create the perfect space to while away an hour or two sipping cocktails made with agave, sage, and other regional ingredients.
And with no TVs or other distractions, patrons can actually talk with each other—and perhaps make a new friend over Colkegan single malt cocktails.
Dine beneath the distillery itself at The Family Jones, where the seasonal flavors rule both the food and cocktail menus.
The Family Jones Spirit House—Denver
The best bars create an atmosphere of hospitality so comfortable that it's like being at home, but The Family Jones takes it one step further, turning its menus into albums stuffed with vintage family photos—including some of its employees. Dedicated to seasonality—and limited to offering only spirits that it produces—The Family Jones makes almost every ingredient in-house, from the rosemary amaretto in the Colorado Sour to the spiced house blanc, a white vermouth-inspired botanical liqueur used in the Salted Grapefruit Spritz. Food and beverage menus change seasonally, so there's always something new to enjoy—but if that's not enough, there's the "Bitchen Creation: You pick it, we mix it" customizable cocktail option.
Forget Olive Garden—this is where you want to be considered family.
Curious customers of Two James Spirits' cocktail bar are rewarded with imaginative drinks and warm hospitality.
Two James Spirits—Detroit
A large "TWO JAMES" sign hanging off the side of a low-slung warehouse beckons visitors to belly up to the circular bar at Detroit's first licensed distillery since Prohibition. A former taxi-repair shop, the high-ceilinged space now serves locals and tourists as an upscale drinks haven boasting a roster of classic and original cocktails made with Two James's whiskeys, rum, gin, vodka, and other spirits.
And if you become a loyal customer, you'll get rewarded.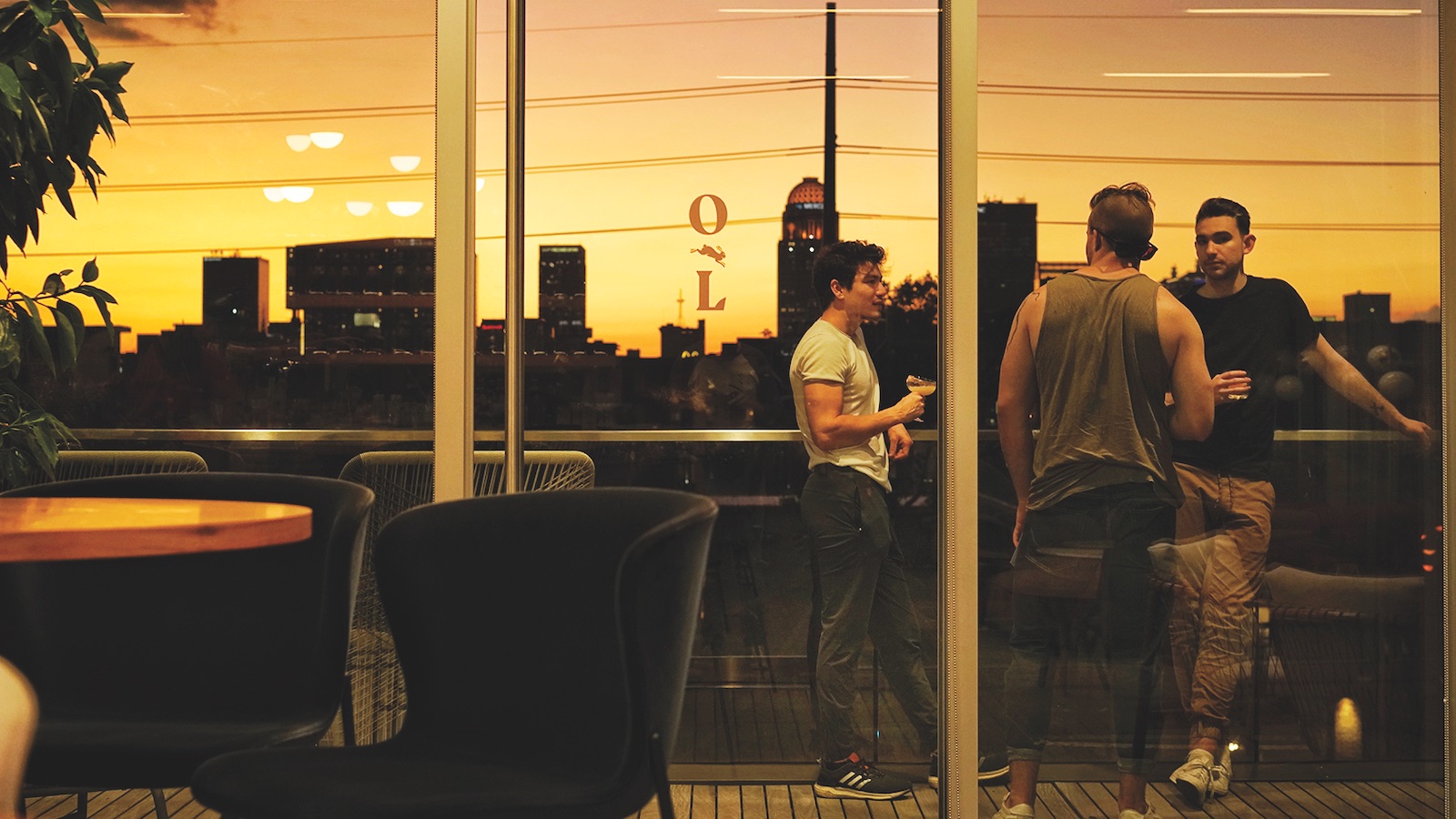 Rabbit Hole Distillery's Overlook Bar pairs innovative whiskey cocktails with a sophisticated setting.
The Overlook at Rabbit Hole Distillery—Louisville, Kentucky
W
hile building the distillery on East Jefferson Street in Louisville, Rabbit Hole's construction team would go up in a boom to see what the view from this third-floor cocktail haven would be when complete. It's excellent, with floor-to-ceiling windows overlooking the Butchertown neighborhood and the Big Four Bridge, providing an ideal
balance for the soaring heights of the glass-en
closed still room down the hall. And the cocktails? They're unforgettable too.