Another Game of Thrones Scotch, 42 Year Old Canadian Club & More New Whisky
November 8, 2019 –––––– Susannah Skiver Barton, , , ,
While
scotch prices might be rising
thanks to recently enacted tariffs, there's plenty of good news for whisky lovers, starting with this week's newest releases.First up actually is a single malt scotch, the final release in
Diageo's
Game of Thrones tie-in bottles. Mortlach 15 year old Six Kingdoms is priced at $150 and available in limited amounts, alongside the other eight single malts, which originally launched in 2018 and have been re-released this fall.
Canadian Club
is rolling out a 42 year old whisky called The Dock Man. Priced at just $300 (a steal for a whisky of this age), it's available in limited amounts.Another well-aged Canadian whisky at a higher price is coming from
Heaven's Door
, the Tennessee-based brand backed by Bob Dylan. The first release in its Bootleg Series of limited-edition whiskies is a 26 year old Canadian whisky finished in mizunara casks. Less than 3,000 bottles are available, priced at $500.
Egan's
is rolling out Centenary, a blend of Irish malt and grain whiskeys finished in XO cognac casks. Just about 6,000 bottles are available, priced at $100 each.The newest bourbon from
Four Gate Whiskey Co.
is coming out next month, this time finished in casks made of alternating toasted and charred staves. Four Gate Split Stave is $175, and there are 2,700 bottles available.France's
Warenghem Distillery
is releasing a single cask Armorik single malt just for the U.S. The whisky is finished in a pineau des Charentes cask, with 318 bottles available, priced at $110.Independent bottler
Duncan Taylor
has partnered with Chicago whisky bar Delilah's to release a single cask Caperdonich. The 26 year old single malt is mainly available at Delilah's by the pour, but a few bottles are also for sale at Binny's, priced at $800.Finally, two releases that aren't available in the U.S. but you should know about anyway: London's
Bimber Distillery
is launching a single malt aged in recharred American oak casks and priced at £65. And way up on Scotland's most northerly island,
Shetland Reel Distillery
has created a blended malt that was finished in oloroso sherry casks for six months in-house. That whisky is £43, available at the distillery and online.Read on for full details.
Mortlach 15 year old Six Kingdoms
Style: Single maltOrigin: Scotland (Speyside)Age: 15 years oldProof: 46% ABVPrice: $150Release: December 2019Availability: Limited edition
Need to know:
Rounding out Diageo's Game of Thrones single malt series, this Mortlach was aged for 15 years in first-fill sherry-seasoned casks and finished in bourbon casks. It's packaged in a gold canister that depicts the three-eyed raven from the show, and named for the landscape of Westeros at the series' conclusion.
Whisky Advocate says:
Game of Thrones may have ended last spring, but with a prequel series planned and more volumes of the book series to come, Westeros lives on. In addition to this new Mortlach, Diageo has re-released the eight other single malts in its Game of Thrones tie-in. We reviewed those whiskies earlier this year.
Canadian Club Chronicles 42 year old The Dock Man
Style: Blended whiskyOrigin: CanadaAge: 42 years oldProof: 45% ABVPrice: $300Release: November 2019Availability: Limited edition
Need to know:
Made from a blend of whiskies that aged for 42 years, this is the second "issue" in Canadian Club's Chronicles series, following the 2018 release of 41 year old The Water of Windsor. A 40 year old Canadian Club came out in 2017, but wasn't officially part of the Chronicles series. The Dock Man is named for the workers who helped vessels dock safely at the distillery in Windsor, Ontario during Prohibition, thus ensuring that real Canadian Club, rather than poorly made counterfeit whisky, made it across the river to Detroit.
Whisky Advocate says:
This whisky came out in Canada first, and scored 96 points in our Fall Buying Guide; the 41 year old and 40 year old each received the same score. The price is not missing a zero, by the way; this whisky really is just $300, which is a tiny fraction of the price of similarly aged scotch. (By comparison, a 40 year old Littlemill was released with a tag of $10,000; a recent 40 year old Macallan is $14,500.) Thus is the great value of aged Canadian whisky!
Heaven's Door 26 year old Mizunara Cask-Finished Whisky
Style: WhiskyOrigin: CanadaAge: 26 years oldProof: 55.75% ABVPrice: $500Release: December 2019Availability: Less than 3,000 bottles
Need to know:
Sourced from Canada, this whisky was made with a low-rye mashbill, aged in bourbon casks, and finished for six months in mizunara oak casks from Japan. It's packaged in a ceramic bottle imprinted with one of Bob Dylan's paintings, Train Tracks, and housed in a leather "journal."
Whisky Advocate says:
While the core line-up from Heaven's Door is sourced from Tennessee and, probably, Indiana, this is the first whisky that they've said comes from Canada. It's the first release in the annual Bootleg Series of limited-edition whiskies. The brand is backed by Bob Dylan and intends to open its own distillery in Nashville in 2020.
Egan's Centenary
Style: Blended whiskeyOrigin: IrelandAge: Not statedProof: 46% ABVPrice: $100Release: November 2019Availability: 5,995 bottles
Need to know:
Commemorating the death of brand namesake Henry Egan 100 years ago, this whiskey blends single malt and grain whiskeys, finishing them in an XO cognac cask.
Whisky Advocate says:
Our review of this whiskey appears in the current issue, where it scored 91 points. It comes packaged with a tweed coaster, and there's a story behind that, according to a press release:"In 1887, Henry was involved in the 'Tullamore Tweed' incident, when Land League leaders William O'Brien, M.P. and John Mandeville were imprisoned at Tullamore Gaol (jail). The men refused to wear official prison garments, protesting their non-criminal status and declaring themselves as political prisoners. Henry managed to smuggle in a suit of Irish Blarney tweed, a soft hat, and an emerald green tie for O'Brien to wear in defiance of the authorities."
Four Gate Split Stave by Kelvin Bourbon
Style: BourbonOrigin: KentuckyAge: Not statedProof: 57.8% ABVPrice: $175Release: December 2019Availability: 2,700 bottles
Need to know:
The third release from Four Gate Whiskey Co., this is straight Kentucky bourbon that's been finished in unique barrels created by Kelvin Cooperage. The cooperage started by creating three types of barrel: toasted, char #2, and char #4. Then it split up the staves from the barrels to create new barrels, alternating between toasted and charred staves (some barrels had char #2, others char #4—the two char levels weren't mixed). The bourbon was then finished in those barrels for about five months.
Whisky Advocate says:
Four Gate debuted earlier this year with a bourbon finished in sherry-rum casks and followed it up with a bourbon finished in orange curaçao-gin barrels. The company works closely with Kelvin Cooperage to source and create these unique finishing vessels, and if the first release is any indication, the strategy works: It scored 93 points in the Buying Guide. We'll be reviewing the two most recent releases in an upcoming issue of Whisky Advocate—stay tuned!
Armorik Pineau des Charentes-Finished
Style: Single maltOrigin: FranceAge: 7 years oldProof: 46% ABVPrice: $110Release: October 2019Availability: 318 bottles for the U.S. only
Need to know:
Distilled in August 2012, this single malt whisky aged for 3½ years in bourbon casks and 3½ years in a pineau des Charentes cask. It's available exclusively in the U.S.
Whisky Advocate says:
Pineau des Charentes is a fortified wine, made of unfermented or lightly fermented grape juice and eau-de-vie from Cognac. There isn't a lot of it produced, so it's rare to see its casks being used in whisky production. The only other pineau-finished whiskey I know of was a special edition of Murray Hill Club, which is blended by Jos. A Magnus & Co. Since Armorik Distillery is located in France, it stands a better chance than most others at accessing casks like this. And in fact, French distillers and blenders overall have a wide variety of resources to draw upon—you can read all about the country's whisky scene in our recent feature.
Caperdonich 26 year old Delilah's 26th Anniversary
Style: Single maltOrigin: Scotland (Speyside)Age: 26 years oldProof: 52% ABVPrice: $800Release: October 2019Availability: 190 bottles; for sale only at Binny's or as a pour at Delilah's in Chicago
Need to know:
Distilled at Caperdonich, this is a single-cask whisky, bottled by Duncan Taylor in honor of the 26th anniversary of Delilah's in Chicago. Most of the bottles are going to the bar, which is offering pours for $40, but a few will also be available at Binny's.
Whisky Advocate says:
Caperdonich was closed in 2002 and demolished nine years later, so stocks of its whisky are ever-diminishing. Delilah's, however, is going strong, and has often bought exclusive whiskies to celebrate important anniversaries. Owner Mike Miller knows how to pick a cask—expect this whisky to be excellent.
Bimber Re-charred Oak Casks Single Malt
Style: Single maltOrigin: EnglandAge: Not statedProof: 51.9% ABVPrice: £65Release: November 2019Availability: 5,000 bottles; not for sale in the U.S.
Need to know:
London's Bimber Distillery made this single malt, which was aged for three years in American oak bourbon casks that were recharred to "alligator char" level before being filled.
Whisky Advocate says:
England has its own history of whisky-making, although it was never as robust or widespread as in Scotland. Nevertheless, the country has seen an upswell of new distilleries in the last few years, including The English Whisky Co., Adnams, and Cotswolds, which all export to the U.S. Bimber is among the first whiskies to be made in London in over a century, although it was beaten by The London Distillery Co., which released its single malt in February 2019.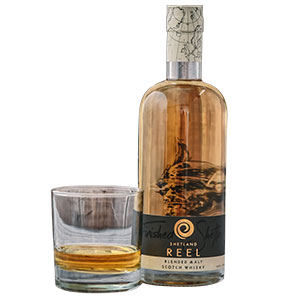 Shetland Reel Blended Malt
Style: Blended maltOrigin: ScotlandAge: Not statedProof: 47% ABVPrice: £43 ($55)Release: November 2019Availability: 300 bottles with more planned; available at the distillery and online at shetlandreel.com
Need to know:
Blending malt whiskies sourced from all over Scotland, including Islay and Speyside, this whisky was finished for six months in oloroso sherry casks at Shetland Reel Distillery on the island of Unst, the most northerly part of Britain. This is the fourth batch of the blended malt to be released, but the first to have been partly matured in Shetland.
Whisky Advocate says:
Shetland Reel is run by veteran scotch distillery manager Stuart Nickerson. Since 2014, the distillery has been making gin, as well as producing this blended malt, but it has plans to begin distilling its own whisky as well.