Wyoming Whiskey National Parks, M&H Apex Series, & More [New Releases]
April 16, 2021 –––––– Ted Simmons, , , ,
Spring is in the air, and for some that means a season of change.
Stranahan's
in Colorado for one has unveiled new packaging for its Original single malt whiskey. Beyond an additional label on the bottom half of the bottle, the whiskey is slightly older as well, a blend of 4 to 7 year old single malts.
On to new whiskies from this week.
Wyoming Whiskey
has released a bourbon that honors the state's national parks. Wyoming Whiskey National Parks is available in Wyoming and New York for $50.
M&H Distillery
in Tel Aviv, Israel is adding two new cask types to its Apex Series. Cognac Cask and Red Wine Fortified are both priced at $100 and limited releases.
Bladnoch
in the Scottish Lowlands is bringing a new non-age statement single malt to the states. Vinaya is $50 with wide availability.Also from Scotland,
Ardnamurchan
is bringing its single malt stateside and introducing a single cask expression along with it. The single malt will be $65 with a 5,000 bottle release, while the single cask is limited to 269 bottles and costs $110.Finally,
Sisterdale Distilling
in Texas is introducing a new straight bourbon. Available only in state, it costs $75.Read on for full details.
Wyoming Whiskey National Parks Limited Edition
Style: Straight bourbonOrigin: WyomingAge: 5 years oldProof: 46% ABVPrice: $50Release: April 2021Availability: Limited edition; exclusive to WY and NY.
Need to know:
This whiskey is the first in a new, annual collection from Wyoming Whiskey: Wide Open Spaces—By Air. The series was inspired by the state's national parks—with this one honoring Grand Teton National Park—and to that end, $5 from every bottle sold will go toward the National Park Foundation. If you're especially interested in both whiskey and the preservation of our national parks, Wyoming is also hosting a live auction on April 20, where four special edition bottles, along with vacation retreats, merchandise, and more, will be up for grabs, with all proceeds benefiting the National Park Foundation.
Whisky Advocate says:
Wyoming Whiskey's star has risen in recent years, culminating in the formation of a "strategic partnership" with Edrington Group—the parent company of Macallan, Glenrothes, and Highland Park scotch—in 2018. Under Edrington's wing, the distillery has expanded its reach, and can more comfortably explore limited releases like this.
M&H Apex Series Cognac Cask
Style: Single maltOrigin: IsraelAge: Not statedProof: 59.4% ABVPrice: $100Release: June 2021Availability: 1,440 bottles
Need to know:
A vatting of bourbon and STR (shave, toast, rechar) casks precedes a finish in French Limousin cognac casks.
M&H Apex Series Fortified Red Wine Cask
Style: Single maltOrigin: IsraelAge: Not statedProof: 60.4%Price: $100Release: June 2021Availability: 1,800 botlles
Need to know:
This single malt whisky was matured in fortified red wine casks from local Israeli wineries.
Whisky Advocate says:
M&H introduced their Apex series earlier this year with two single malts, one finished in pomegranate wine casks and one finished in chardonnay casks. The series aims to celebrate Israel's ingenuity, rich terroir, and unique climate.These whiskies are both certified kosher, which is of particular note whenever wine casks are involved. We detailed the process a whisky undergoes to be certified kosher in our Winter 2020 issue. Keep an eye out for reviews of the full Apex series in a future Buying Guide.
Bladnoch Vinaya
Style: Single maltOrigin: Scotland (Lowlands)Age: Not statedProof: 46.7% ABVPrice: $50Release: July 2021Availability: Widely available
Need to know:
The latest Bladnoch release was matured in bourbon and sherry casks. Its name is Sanskrit for "respect and gratitude."
Whisky Advocate says:
Though releases from Lowlands distilleries were once far less frequent than neighboring scotch regions, the Lowlands has seen a resurgence in recent years. This release is especially exciting as it comes as Bladnoch embarks on its 204th year.
Ardnamurchan Single Malt and Single Cask
Style: Single maltOrigin: ScotlandAge: The whisky for the single malt was distilled in 2014 and 2015. The single cask was distilled in 2015Proof: 48.6% ABV / 59.4% ABV Price: $65 / $110Release: June 2021Availability: 5,000 bottles / 269 bottles
Need to know:
This is the U.S. debut for the whiskies of Ardnamurchan, a small distillery located on a remote peninsula of the same name in western Scotland, following a release last September in the U.K.The distillery produces two whisky styles, one peated and one unpeated. These whiskies are comprised of a 50-50 split of peated and unpeated production.Ardnamurchan names its releases by codings. The coding for the single malt release is AD/03.21:02—meaning Ardnamurchan Distillery, bottled in March 2021, as the second batch. The single cask coding is AD/CK187, with 187 being the cask number. The single cask was distilled in May 2015.
Whisky Advocate says:
Owned by Scottish independent bottler Adelphi, Ardnamurchan was built in 2013 and began producing whisky the following year. The whiskies were matured in a 65%-35% mix of bourbon and sherry casks. Ardnamurchan will be sold in 700-ml. bottles—a size now permitted in the U.S. following the TTB rule changes announced late last year.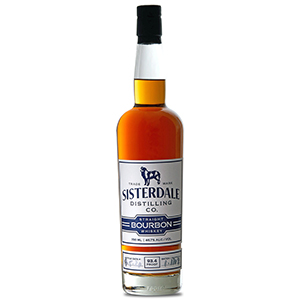 Sisterdale Distilling Co. Straight Bourbon
Style: Blend of straight bourbonsOrigin: IndianaAge: 3 yearsProof: 46.7%Price: $75Release: April 2021Availability: Texas only, with expansion planned
Need to know:
This bourbon is a blend of five different distillates, all sourced from MGP in Indiana, aged for at least 40 months.
Whisky Advocate says:
Founded by longtime friends and entrepreneurs Chad Gailey and Peter Watson, Sisterdale blends sourced whiskeys together rather than distilling their own. The whiskey scene in Texas is growing ever more robust, and while this whiskey wasn't distilled in the state, it was aged there and thus subjected to warm-climate maturation. We'll have a story on Texas whiskey in a future issue.