Irish Single Pot Still Whiskey Stakes A Comeback
October 28, 2020 –––––– David Fleming, , , ,
On Ireland's windswept southwest coast, the Galley Head Lighthouse sits high above the rocky cliffs at the edge of the Atlantic. The fields around the lighthouse are filled with sea air and mist, and are planted with barley. The Scully family has owned this farmland for three centuries. "It's a special place to grow barley," says Michael Scully, who represents the eighth generation of family leadership. "The maritime air permeates right to the grain."Scully's passion for farming extends to a love of whiskey, and he saw the farm's seaside location as an ideal place for making and maturing it. In 2016, he took the plunge, and scouted a distillery location in the town of Clonakilty, about five miles down the road. Scully's mission: to make single pot still whiskey. "The very best single pot still expressions are among the very best exemplars of whiskey in the world, and our goal is to make world-class whiskeys," he says.
Clonakilty Distillery
, a modern glass building that once housed a local bank, began laying down whiskey in March 2019. Small amounts of single malt will be produced, but the predominant expression will be single pot still.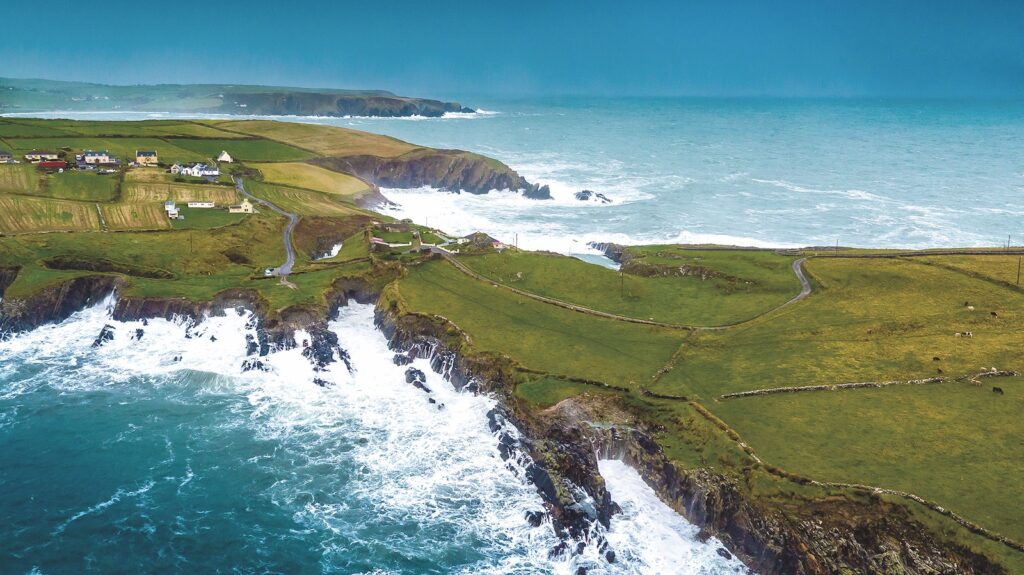 Barley fields dot the coast around Galley Head Lighthouse, land that has been farmed by the Scully family of Clonakilty Distillery for three centuries.
In the capital city of Dublin, ancestral home of the single pot still whiskey style,
Teeling Distillery
opened its doors five years ago in the Liberties district, a neighborhood that teemed with distilleries in the 18th and 19th centuries. The Teeling company symbol is a phoenix, meant to represent
the restoration of Dublin
distilling to its former glory. Much of that history surrounds the making of single pot still whiskey. Just over a year ago, Teeling proudly released its first single pot still expression—and the first made in Dublin in over 40 years. Admiring the whiskey's sky blue label, whose color represents the city's traditional "Dublin blue," master distiller Alex Chasko leaves no doubt about its importance. "This whiskey is why we built the distillery, and why we built it in Dublin," Chasko says. "This is the future personification of Teeling."Ireland recently witnessed the opening of its 31st distillery—up from only four a decade ago—and 20 of those are now making single pot still whiskey. This uniquely Irish style ruled the world in the 19th century, and then nearly vanished into history in the 20th. It may now represent the bright future of Irish whiskey.
Distinctly Irish
What sets single pot still whiskey apart? Like the single malts of Ireland and Scotland, it's pot-distilled from a mash of barley by a single distillery—but the
defining details
are in the mashbill, and in the proportions of its various grain types. While single malt is distilled entirely from malted barley, single pot still mash contains a substantial share of unmalted barley. (By law Irish pot still whiskey contains at least 30% of each barley type, plus up to 5% of other grains.) The husky raw barley helps create single pot still's unique profile—thick and loaded with spice and complex fruit notes. Its mouthfeel is often described as oily, leathery, or viscous. An explosion of prickly spice then follows, reaching its crescendo with a parade of spices and notes of ginger, licorice, Christmas cake, dried fruits, and demerara sugar, to name a few characteristic flavors.
In its origins, the creation of single pot still whiskey was an accident of history, brought on by the taxman. The Malt Tax of 1785, one of Britain's many onerous levies, placed a duty on malted barley used in whiskey production. To ease this burden, Ireland's distillers began substituting a portion of unmalted (and thus untaxed) barley in their mashbills. The addition of this "green" malt produced the surprisingly creamy, spiced style that would go on to conquer the world.Its popularity spread like wildfire, and even after the Malt Tax was repealed in 1855, there was no going back. In Victorian drawing rooms and pubs across Ireland and throughout the British Empire, single pot still—then known as "pure pot still" or "Dublin sipping whiskey"—became the tipple of choice. (The word "single" was substituted only in recent years to resolve a dispute with U.S. authorities over the term "pure.") By the end of the 19th century, Irish single pot still accounted for about 80% of the entire world's whiskey supply. The style became a byword for sophisticated whiskey, its taste considered far more refined than that of its rustic Scottish cousins.
Dublin's John Power & Son was one of the premier producers of single pot still Irish whiskey in the late 19th century, but dwindling demand forced it to close in the mid-20th century.
Then came Irish whiskey's long fall from grace. After Ireland won independence in 1922, it faced a U.S. market that was completely shuttered by Prohibition. A trade war with Britain was ignited in the 1930s, blocking Irish exports to all countries of the Empire. Meanwhile, rival Scotland's embrace of the hyper-efficient column still had given rise to the international dominance of blended scotch whiskies. War, economic downturns, and taxation did the rest, and by the 1960s the Irish whiskey industry lay in ruins, its silent, shuttered distilleries dotting the landscape. Only three survivors remained in all of the Irish Republic—the once-mighty Dublin distillers
John Jameson & Son
and
John Power & Son
, and Cork Distilleries Co. in Midleton, County Cork. In 1966, they joined forces in a final roll of the dice, and formed
Irish Distillers
. Plans were mapped for Jameson and Power to be consolidated into Midleton, ending Dublin's reign as a global whiskey capital.At Irish Distillers, the mission was to reintroduce Irish whiskey to the world. Its executives recruited a small army of marketing consultants, who advised that single pot still's profile was too difficult for new drinkers to grasp. The "modern" taste was for lighter-style blends. Irish Distillers accordingly transitioned its production from pot still to blends. The legendary pot still brand Powers became a blended whiskey in 1967, and Jameson followed suit a year later. (Jameson, designated as the export leader, had its bottle changed from clear to green to accentuate its Irishness abroad.)Only two small brands remained in the entire Irish single pot still universe: the "bonded"
Redbreast
label and the
Spot
range. Bonded whiskeys were owned by merchants—importers, pub owners, grocers, and the like—who purchased whiskey from their local distillery and aged it in their own cellars "under bond," exempt from duty until release. Redbreast, so named because its owner's chairman was an ardent birdwatcher, belonged to the Irish branch of Britain's W&A Gilbey Ltd. The Spot range was owned by Dublin wine merchant Mitchell & Son, and its name was inspired by the dabs of colored paint applied to barrels in the Mitchell & Son cellars to mark their aging potential. Pub patrons began calling for these whiskeys by the color of the "spot" on the barrelheads—green for the 10 year old, yellow for the 12 year old, and red for the 15 year old—and the name stuck.For many decades, Redbreast and the Spot whiskeys were sourced from John Jameson & Son in Dublin. But the Jameson distillery had now become part of Irish Distillers, and in an effort to bring all whiskey development in-house, Irish Distillers decided to terminate all sales to bonders. Mitchell & Son, now faced with a finite supply, discontinued the Yellow Spot and Red Spot labels. But Jonathan Mitchell, the sixth-generation owner who still leads the company today, managed to strike an agreement whereby Irish Distillers would continue supplying Green Spot, taking ownership of the brand's global rights while leaving Mitchell & Son in charge of Ireland. Redbreast, meanwhile, kept going for a time, but finally went off the market in 1985. At that point, Green Spot became the last surviving single pot still whiskey.
Brian Nation (right) succeeded the legendary Barry Crockett (left) as Irish Distillers' master Distiller in 2013. Nation has since left the company to join an American distillery. (Courtesy of John Sheehan Photography)
Modern Masters
In the 1980s, only one person in all of Ireland was making single pot still whiskey—Midleton's legendary master distiller Barry Crockett. Born in the Distiller's Cottage on the grounds of Midleton, Crockett assumed the master distiller position in 1981, a role once held by his father, Max, who had retired in 1974."Back in the 1980s, the easiest option would have been to shut the distillery for half the year and make only the blended volume required at the time," says former Irish Distillers master distiller Brian Nation, who succeeded Barry Crockett in 2013 and
recently left the company
. "It's only thanks to Barry and his father before him that we were able to release the whiskeys we have today. In 1981 when Barry took over, there were stocks, but by the mid-'80s we had much more in our inventory. We had some visionary innovators who saw the future potential of single pot still."Irish Distillers in the meantime had acquired the Redbreast trademark from Gilbey, and it relaunched the brand in 1991. Redbreast's return received some high-profile praise from Michael Jackson, the most influential whiskey writer of the time. Single pot still remained elusive even within Ireland, but this signaled hope for its long road to restoration.With the commercial success of Jameson in export markets and tastes returning to more complex whiskeys, Irish Distillers began devoting more attention to single pot still. Since 2011, it has released at least one new expression every year from its Redbreast, Powers, Spot, or Midleton single pot still labels.
Give us time, and single pot still will become the Irish equivalent of Scottish single malt. —Alex Conyngham, Slane Distillery
All of them offer signature pot still creaminess and spice, but are distinguished by the differences in their distillation and wood maturation. Redbreast is the most sherry-driven of the bunch, matured in a combination of first-fill American oak and sherry casks but with the sherry side in command, delivering notes of dried fruit, Christmas cake, and spiced complexity.The Spot range has a slightly different distillate, enhanced by the vanilla sweetness from its toasted American oak barrels. But the Spots differ vastly from one another. Green Spot, at 6 to 10 years old, is matured mainly in American oak barrels with a small contribution from sherry casks, and sits in the fruity quadrant, with notes of orchard fruits, freshly mown grass, and toasted oak. Yellow Spot, a 12 year old, is different altogether—thanks to the influence of malaga wine casks. It contains whiskey that isn't merely finished in malaga casks, but aged there a full 12 years. That liquid is then added in measured amounts to the bourbon and sherry-cask aged components to create a delightfully chewy whiskey, with notes of butterscotch and crème brûlée. Red Spot, a 15 year old, has the marsala wine cask from Sicily as its influencer. It offers sweetness and greater depth from its extra age, and layered notes of baked apple, mango, and black cherry, with confectionery punch.Powers, with its Powers John's Lane and Three Swallow expressions, is the boldest of the group. It's classically viscous, earthy, and spicy, but relies less on the cask and lets the distillate do the talking. "You tend to find more refill barrel and very little sherry contribution here—to keep the earthy, spicy distillate style in the whiskey—true to the Powers way," says Nation.
Alex Chasko, master distiller at Teeling, is among those whiskey makers bringing Irish single pot still into the modern era.
The Midleton expressions, meanwhile, are the pinnacle of single pot still elegance. Midleton Barry Crockett Legacy is a selection of pot still whiskeys that have been matured in first-fill American barrels, with a subtle contribution from pot-still distillate matured in virgin American oak, producing notes of vanilla sweetness and clean oak. Midleton Very Rare Dair Ghaelach is finished in virgin Irish oak. Midleton Very Rare blended whiskey is an annual release that includes a grain whiskey component, but relies heavily on pot still whiskey, lending it luxurious flavors and ranking it among the most collectible Irish whiskeys.
The New Pioneers
The seeds are being sown—in some cases literally—for a new generation of single pot still whiskey makers. In County Cork, Clonakilty's single pot still whiskey, with its mashbill of 60% unmalted and 40% malted barley, will need to mature for a few more years, but Scully says its intense barley flavor and maritime character are already discernible. "You can taste it in the [new]make, and that's going to make the whiskey special," he says. "The maritime notes will come through more with aging in our maturation warehouses, which are also right by the ocean."
Single pot still is the jewel in the crown for Irish whiskey, but it will take five to ten years for it to really start shining —Bernard Walsh, Walsh Whiskey
Like many start-ups, Clonakilty is initially offering whiskeys sourced from other Irish distilleries. The Clonakilty labels feature the curious illustration of a minke whale fin, in tribute to the whales that play offshore, migrating away in the winter but returning in spring. The locals know these creatures by their tail fin markings, and have even given them names. The oldest whale is Boomerang, and he's been a visitor for 17 years. "He comes back to us every year," says Scully affectionately.At Teeling in Dublin, single pot still accounts for 40% of total production, with the remainder devoted to single malt and experimental mashbills. Its single pot still is a mix of 3 and 4 year old whiskeys, both equal parts malted and unmalted barley. "The final release was a balance of American virgin oak, first-fill bourbon barrels, and sherry casks—first-fill oloroso hogsheads," says Chasko. "That got it right, offering the familiarity of sherry and American oak influence." Teeling is also aging some single pot still distillate in tawny port casks, which Chasko describes as "very different," and perhaps someday destined to become a 10 year old expression.
The Shed Distillery in Drumshanbo debuted its first single pot still whiskey in the U.S. in October 2020.
In Connacht Province in the northwest,
The Shed Distillery
in the town of Drumshanbo laid down its first whiskey in December 2014. Built inside an abandoned jam factory, The Shed has three pot stills pumping out whiskey. Its first single pot still expression was released at Christmas in 2019 and sold out quickly, but
is now widely available in the U.S
. "For us, it's about respecting the heritage of single pot still," says owner P.J. Rigney, whose inspiration is the work done by Irish Distillers. "This is a style that needs time—about five years, in our view—to reach its sweet spot. From there it will keep getting better and better." Rigney won't reveal how much unmalted barley is in the mashbill (30% is the minimum), but notes that it contains 5% oats, as permitted by law.Out on the Dingle Peninsula on Ireland's west coast,
Dingle Distillery
is led by master distiller Graham Coull, formerly of
Glen Moray Distillery
in Scotland, who oversees a program of both single malt and pot still production. Dingle filled its first casks in December 2012, and released its first whiskey three years later. Its Dingle single pot still expression, which has had several releases thus far, is matured in PX sherry casks.
On the outskirts of Tullamore, about an hour west of Dublin,
Tullamore D.E.W.
is making single pot still, single malt, and grain whiskeys. The malt and pot still distillery began production in 2014, the grain distillery in 2017. Thus far, the liquid is being utilized to support Tullamore D.E.W.'s existing blends and single malts. "Pot still is an essential part of the Tullamore D.E.W. blend, so it's hugely important to us," says master blender Brian Kinsman. "We've been filling single pot still and single malt for the current range, but with an eye toward new possibilities. We've been trying different things every year, and we'll start working with the inventory over the next few years to create potential new expressions." Those most probably will include a Tullamore D.EW. single pot still whiskey.Just a 15-minute drive from Tullamore D.E.W. is
Kilbeggan Distillery
, which
recently released a single pot still expression
—its first since the place was shuttered in 1953 and then revived in 2007. Inspiration was taken from an old book dating back to the 19th century, which contains more than 100 recipes. As with The Shed, Kilbeggan's pot still expression contains a small amount of oats—this time 2.5% of the total—in tribute to the old styles.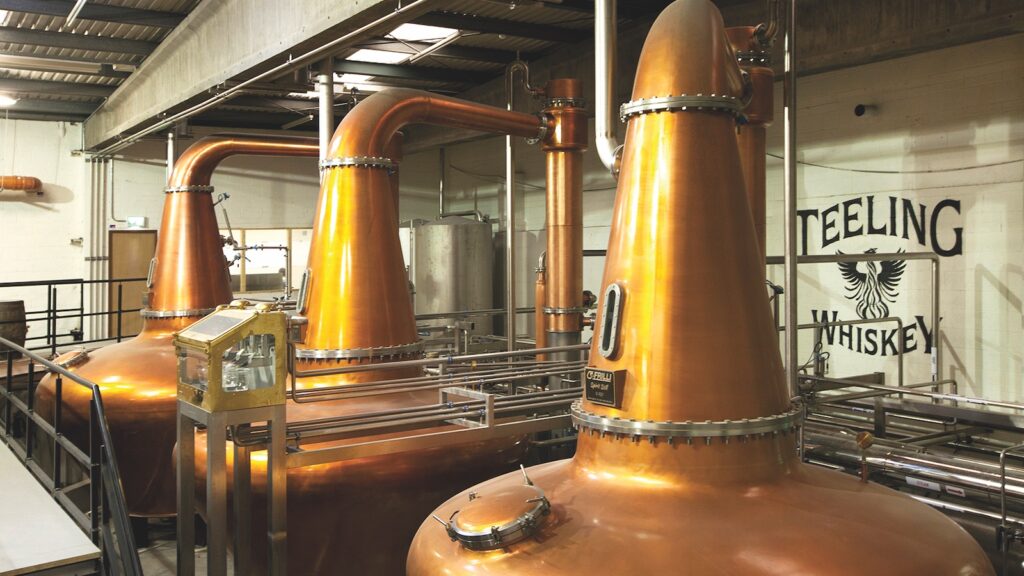 The pot stills shine brightly at Teeling Distillery in Dublin, which added a single pot still whiskey to its core lineup in 2019.
All across Ireland, single pot still is thriving. At
Walsh Whiskey
, it's the backbone of the company's Writers' Tears and The Irishman blends. Owner Bernard Walsh, who sold his stake in
Royal Oak Distillery
last year, now spends his time visiting distilleries and sampling whiskeys to source for his brands and is currently developing a single pot still expression of Writers' Tears. In a broader sense, he sees its general proliferation as a longer-term prospect. "Single pot still is the jewel in the crown for Irish whiskey, but it will take five to ten years for it to really start shining," says Walsh.
Slane Distillery
in County Meath, north of Dublin, filled its first barrel in 2018, and is laying down single malt, single pot still, and single grain whiskeys. While it waits for them to mature, it's offering Slane whiskey, a sourced blend. But founder Alex Conyngham is a true believer in single pot still. "Give us time, and single pot still will become the Irish equivalent of Scottish single malt," he says.Conyngham understands that whiskey time is very different from real time. It could take a few more years to fully blossom, and it's unlikely that single pot still Irish whiskey will ever resume its once-overwhelming dominance of the whisky world. But from a place of near extinction, it appears ready to thrive, and delight whiskey drinkers once again.