Woodford Reserve Very Fine Rare, Barrell New Year & More New Whisky
December 4, 2020 –––––– Susannah Skiver Barton, , , ,
In case you haven't heard: Our Top 20 whiskies of 2020 have been unveiled! Check out
the list
and join us at 3 p.m. today on
Instagram Live
, where we'll be discussing and tasting several of the winners.On to new releases!
Stranahan's
is making some of its rarest whiskeys available to benefit the Colorado communities impacted by recent wildfires. While its annual Snowflake release—which sees long lines of fans congregating for days ahead of time outside the distillery—is on hold until February 2021, the distillery is offering five bottles each of its 2015-2019 releases at auction. Proceeds will benefit the
Colorado State Firefighters Foundation
, and Stranahan's will match the gift up to $25,000. Follow the
distillery's Instagram page
for more information.
Woodford Reserve
has revealed its latest Master's Collection whiskey, Very Fine Rare. The bourbon is available in limited amounts, priced at $130, and debuts in a new bottle.
Barrell
is launching its annual New Year blended straight bourbon just in time for the holidays. Priced at $90, it's available in limited amounts.Independent bottler and blender
Douglas Laing & Co.
is releasing a batch of Big Peat Prohibition Edition ($59; 2,000 bottles) for the U.S., along with Big Peat's 2020 Christmas Edition ($59; 900 bottles).
Proof and Wood
has unveiled 100 Seasons, a 25 year old light whiskey from MGP. There are just 500 bottles, priced at $350.
Castle & Key
is debuting the first whiskey released under its own name. Castle & Key Restoration rye is priced at $40 and initially available in two batches, with more to come.
Widow Jane
is rolling out the 2020 release of The Vaults, this time a 15 year old blended straight bourbon. It's priced at $199, with 5,000 bottles available.Texas-based
Devils River Whiskey
has added a barrel-proof, single-barrel bourbon expression. The whiskey is priced at $50 and widely available.
Peg Leg Porker
is offering a 15 year old Tennessee bourbon filtered through its custom hickory charcoal. Peg Leg Porker 15 year old Pitmaster Reserve is priced at $400, with around 2,500 bottles available.Seattle's
Copperworks Distilling
has released the first single malt whiskey made with Washington-sourced peat. There are just over 1,900 bottles available, priced at $76.Finally,
Whistling Andy Distillery
in Bigfork, Montana is offering a bottled in bond corn whiskey to celebrate its 10th anniversary. The whiskey is priced at $55 and for sale in Montana.Read on for full details.
Woodford Reserve Master's Collection Very Fine Rare Bourbon
Style: Straight bourbonOrigin: KentuckyAge: Not statedProof: 45.2% ABVPrice: $130Release: December 2020Availability: Limited edition
Need to know:
The oldest Woodford Reserve ever released, this includes bourbon from barrels filled in 2003, the year that Chris Morris was named master distiller, as well as slightly younger bourbons; the youngest is 11 years old.
Whisky Advocate says:
This is the 16th year of the Master's Collection, whose releases result from Morris' experiments with different elements of flavor creation, such as fermentation and maturation. Going forward, Morris will still be involved in the series, but he's stepping back to allow assistant master distiller Elizabeth McCall to take the lead.This release marks the first Master's Collection in a new bottle as well; the familiar pot-still shape is being scuttled for a design that's a bit closer to Woodford's regular bottle.
Barrell New Year 2021
Style: Blend of straight bourbonsOrigin: MultipleAge: Not statedProof: 56.95% ABVPrice: $90Release: December 2020Availability: Limited edition
Need to know:
This blend of straight bourbons includes whiskeys aged 5, 9, 10, and 11 years. They come from seven states, making this one of Barrell's widest-ranging bourbon releases so far: Colorado, Kentucky, Indiana, New York, Tennessee, Texas, and Wyoming.
Whisky Advocate says:
We will all be glad to see this year in the rearview mirror—and I'm guessing most of us will choose to ring in 2021 with a good dram. Those who like to match their whisky to the occasion should seek out this bottle!
Big Peat Prohibition Edition (Batch 88)
Style: Blended maltOrigin: ScotlandAge: Not statedProof: 54% ABVPrice: $59Release: Fall 2020Availability: 2,000 bottles for the U.S. only
Need to know:
This whisky includes single malts from several Islay distilleries, including Caol Ila, Bowmore, Ardbeg, and the defunct Port Ellen. It's a higher-proof version of the core Big Peat, commemorating the start of Prohibition 100 years ago.
Whisky Advocate says:
Other batches of Big Peat Prohibition Edition have been available previously, but this new one is destined for the U.S. only. Blender and bottler Douglas Laing & Co. is also releasing 900 bottles of the 2020 Big Peat Christmas Edition stateside, just in time for the holidays. Look for reviews of both in the upcoming Winter issue of Whisky Advocate!
Proof and Wood 100 Seasons 25 year old American Light Whiskey
Style: Light whiskeyOrigin: IndianaAge: 25 years oldProof: 51.15% ABVPrice: $350Release: November 2020Availability: 500 bottles
Need to know:
Distilled in 1992 at what was then the Seagrams Distillery (now MGP), this light whiskey is made from 99% corn and matured in used whiskey barrels. It was pulled out at 25 years old and spent a couple of years in stainless steel tanks, then was finished for 8 weeks in rye barrels.
Whisky Advocate says:
Light whiskey is a maligned style, originally created in the 1960s and '70s to compete with vodka, which was eating whiskey's lunch, sales-wise. It did not take off on its own, but has been used as a blending component since then. MGP, ever the steady supplier of bourbon and rye, has been making light whiskey all along too, and much of it just sat around in barrels because no one was buying.But when it's well-aged and bottled at higher proofs, light whiskey is actually quite tasty! And a few brands, including High West and Single Cask Nation, picked up on this in recent years. Now it seems that more are joining them; besides this Proof and Wood bottling, other recent releases include Hooten Young and Jacob's Pardon, whose single-barrel light whiskeys are HAZMAT-level proof.
Castle & Key Restoration Straight Rye
Style: Straight ryeOrigin: KentuckyAge: 5 years oldProof: VariesPrice: $40Release: December 2020Availability: For sale in GA, KY, IN, SC, TN, and TX
Need to know:
Castle & Key's first rye released under its own name, this whiskey debuts with two unique batches, and will always be a batched product.
Batch 1 is 51.5% ABV and comes from 60 barrels, with 13,200 bottles produced
Batch 2 is 49.5% ABV and comes from 57 barrels, with 12,540 bottles produced
Whisky Advocate says:
Long anticipated, this is Castle & Key's first rye released under the distillery's own name. (The first rye made at the distillery was released last February by Pinhook.) It's debuting alongside new names and packaging for Castle & Key's previously available gin and vodka.
Widow Jane 15 year old The Vaults (2020 Release)
Style: Blend of straight bourbonsOrigin: Indiana and TennesseeAge: 15 years oldProof: 49.5% ABVPrice: $199Release: November 2020Availability: 5,000 bottles
Need to know:
A blend of straight Tennessee and Indiana bourbons aged 15 to 17 years, this whiskey was finished for a few months in barrels made of new charred Appalachian oak that was seasoned in open air for 5 years before coopering.
Whisky Advocate says:
This release is a follow-up to last year's debut of The Vaults, which was 14 years old and scored 90 points in the Buying Guide. With the double-barrel maturation here, I expect even more oak and spice flavors.
Devils River Single Barrel Straight Bourbon
Style: Straight bourbonOrigin: TexasAge: 2 years oldProof: Varies (barrel proof)Price: $50Release: December 2020Availability: Widely available
Need to know:
Made with Texas-grown grains, this whiskey is matured for at least 2 years and bottled at barrel proof, so each one will vary.
Whisky Advocate says:
Devils River has been sourcing its whiskey from an undisclosed Texas producer up to now, but is about to open its own distillery in San Antonio. Located near the city's River Walk, the production facility will also offer tours and an on-site restaurant and bars.
Peg Leg Porker 15 year old Pitmaster Reserve
Style: Straight bourbonOrigin: TennesseeAge: 15 years oldProof: 45% ABVPrice: $400Release: November 2020Availability: Around 2,500 bottles
Need to know:
Made from 84% corn, 8% rye, and 8% malted barley, this whiskey matured for 15 years in new charred oak barrels, then was filtered through hickory charcoal before bottling.
Whisky Advocate says:
The "peg leg" in this whiskey's name is real, that of brand creator Carey Bringle, who lost his leg to cancer. Bringle is a pitmaster in Nashville, Tennessee, and his barbecue expertise inspired the decision to filter bourbon through hickory charcoal, rather than Tennesee whiskey's traditional maple charcoal. We've liked the brand's previous, younger releases, giving the 8 year old 90 points and the 12 year old 91 points.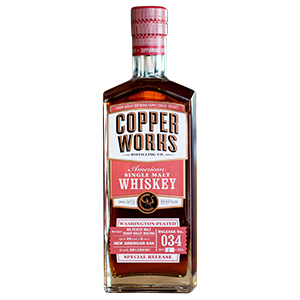 Copperworks Washington Peated American Single Malt
Style: Single maltOrigin: WashingtonAge: 4 years oldProof: 52% ABVPrice: $76Release: December 2020Availability: 1,934 bottles; mainly for sale online and at the distillery
Need to know:
This whiskey was made with 100% Washington-sourced ingredients, including the Copeland barley and the peat, which was harvested from the state's only commercial peat bog. It was matured for over 4 years in char #1 new American oak barrels. Copperworks provides full, detailed specs on its website.
Whisky Advocate says:
Another Washington distillery, Westland, has been distilling from locally peated barley as well, but hasn't yet released a mature whiskey from these runs. By my reckoning, Copperworks is the first, joining a tiny contingent of American distillers making whiskey with local peat, a group that also includes Fifty Stone in Maine and a handful of Minnesota producers.
Whistling Andy Bottled in Bond Whiskey
Style: Corn whiskeyOrigin: MontanaAge: 5 years oldProof: 50% ABVPrice: $55Release: December 2020Availability: 1,200 bottles; for sale in MT
Need to know:
Distilled from 100% Montana-grown corn, this is matured in Whistling Andy Distillery's bourbon barrels.
Whisky Advocate says:
Whistling Andy is hitting its 10th anniversary this year and releasing this bottled in bond whiskey in celebration. It's initially available at the distillery and Montana state stores, and should be for sale online starting early next year.